Posted on 26th September 2013
 A project to create valuable wetland habitat in Stockton-on-Tees, County Durham, is celebrating success after scooping a prestigious environmental and community award, the Biffa Awards 2013.
The 'Portrack Waders' project, run by the Tees Valley Wildlife Trust, was today named winner of the 'Rebuilding Biodiversity' category for their dedicated work to create an area of wetland habitat in Stockton-on-Tees. As a category winner they received £2,000 in prize money to further develop their project.
Administered by the Royal Society of Wildlife Trusts, Biffa Award awards grants to environmental and community projects, using landfill tax credits donated by Biffa Group Ltd.  Each year, the people transforming their communities and improving the environment through Biffa Award projects are recognised at the Biffa Awards ceremony.  This year more than 240 recently completed projects competed to win a prize in one of five categories – Recreation, Cultural Facilities, Community Buildings, Small Grants, and Rebuilding Biodiversity.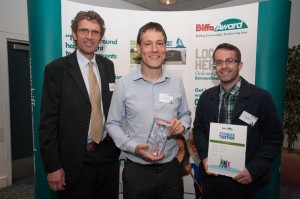 Portrack Marsh is a nature reserve on a piece of undisturbed land in the middle of Middlesbrough and Stockton.  Despite this urban location the reserve is able to function as part of a network of natural spaces along the Tees and supports an important assemblage of breeding and over-wintering wetland birds.  With Biffa Award's support Tees Valley Wildlife Trust extended the reserve by nearly 10 hectares, creating new habitat for wading birds such as the ringed plover, lapwing, snipe, curlew and redshank, and benefiting other biodiversity priority species including the otter and butterflies such as dingy skipper and grayling.
Thanks to the Portrack Waders project the reserve is now able to give priority to educational activities and improve visitor experiences by giving them the chance to experience wildlife at close quarters.
This year's Awards were held today at the ThinkTank Birmingham Science Museum. The theme for the Awards was 'Stronger Together, and sought to celebrate the people behind the projects that are helping to build and rebuild their local communities in these difficult economic times.
Gillian French, Biffa Award Programme Manager, said:
"The Biffa Awards are a unique opportunity to celebrate and reward the dedicated people who are delivering some of the excellent projects we have funded. All of our projects deserve recognition for the work they do, but we are delighted for the Tees Valley Wildlife Trust on their success at this year's Awards. Their inspirational work at Portrack Marsh is not only making a real difference to the biodiversity of the area, but it has really involved the local community – inspiring volunteers as well as providing a fantastic spot for visitors."