Posted on 15th April 2014
There's still enough time to enter the North East Wildlife Photography Competition 2014 which has attracted a line-up of impressive judges including Ross Hutchinson ITV Weatherman and Sam Lee, folk singer and keen wildlife photographer.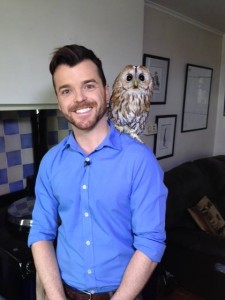 Durham, Tees Valley and Northumberland Wildlife Trusts have again joined forces with the Natural History Society of Northumbria (NHSN) and the Great North Museum: Hancock in the hope that keen snappers will showcase the best of the region's wildlife.
Last year people of all ages and abilities entered 1,500 photos of this region's amazing wildlife and left experts, including David Lindo AKA The Urban birder, highly impressed by the quality of their pictures.
Sam Lee said: "I am really honoured to be squinting my photographer's eye over the glorious images of the natural world for this competition. As a onetime photographer, who has decided to document the world around him through music,  it is a great thrill to be getting back in touch with my visual training and see the world through the eyes and lenses of the talent across the North East"
Nestlé which has worked with Northumberland Wildlife Trust on the planting of butterfly meadows at its factory in Fawdon is the main sponsor, with prizes being donated by Opticron, Newcastle College, BBC Wildlife Magazine, Bird Watching Magazine, Digitalab, Going Digital North East, Kielder Water and Forest Park, Naturetrek, Northern Experience Wildlife Tours, Serenity Farne Island Boat Tours, Speyside Wildlife, Vine House Farm and West Country Wildlife Photography Centre.
This year, there are six competition categories to enter, with each category winner and runner-up receiving a great prize and an overall winner being selected from one of these categories for the main prize of £250.
Wildlife portraits – photos that capture the character, essence or traits of a species
Wildlife in action – photos that capture wildlife behaviour and action
Wildlife in the landscape – photos that show wildlife in its habitat, landscape or setting
Botanical: photos of plants, fungi and lichens
Young person's – photos of wildlife or plants taken by anyone aged 16 or under
Art in nature – photos of flora and fauna that are composed for artistic effect
Entry is free and open to everyone, but photographs must have been taken in the North East.  The closing date for entries is midnight, Monday 5 May 2014.  The winners will be announced at an award ceremony to be held on Thursday 3 July, and will be displayed at the Great North Museum: Hancock in Newcastle before going on tour around the region.
For details of how to submit your entry (online or by post) plus full terms and conditions visit www.nwt.org.uk/photocompetition2014 or write to: Steve Ashton, North East Wildlife Photography Competition, Tees Valley Wildlife Trust, Margrove Heritage Centre, Boosebeck, Saltburn, TS12 3BZ.