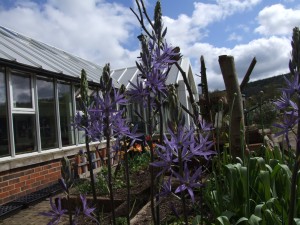 Tees Valley Wildlife Trust Growing Wild Garden wins Best Community Innovative Garden Award
Work on the new Trust garden has been justly rewarded by winning Best Community Innovative Garden Award in the Birdwatching Magazine's wildlife gardening competition. The Trust wins £500 worth of wildlife gardening products from CJ Wildlife and a full page article appearing in Birdwatching magazine. The garden was totally revamped as part of the Local Food / Big Lottery funded project "Growing food for the Future".
The aim was to create an edible and wildlife garden packed full with inspiration on new, easy ways to grow fruit and vegetables and features to attract as wide range of wildlife as possible. The vegetables are all grown in large tubs, raised beds or containers so that they are easy to look after;  with only occasional weeding and only a spot of watering required if it gets hot and dry in the summer.  Our vegetables gets posted from Rocket Gardens to us as little plants all we have to do is pop them in the soil and then pick them when they are ready to eat.
The garden includes 2 innovative features: a rustic bird cafe and a habitat wall. The rustic bird cafe is designed as a bird table "plus" by Keith Ferry from Woodland Connections – it has lots of nooks and crannies for invertebrates to hide or occasionally get eaten! It has a flat table for bird food as well as places to hang feeders on. It also has number of plant growing up it. So far we have managed to attract lots of different species of birds including Greater Spotted Woodpecker, Tree Sparrow and Redpoll. Around the garden we also have an assortment of bird boxes and insect boxes and a hedgehog box. The habitat wall is designed to provide a home for a variety of invertebrates with a multitude of spaces of different sizes for them to hide.
Martin Allen who helped to design the garden said" We're trying some unusual things too; over in the far corner is a gage tree (a sort-of green plum) and nearby is an Oregon grape which has edible berries (apparently). One of the two hazel bushes has been impregnated with truffle spores – fingers crossed that works, there's a rose grown for the hips to use in syrup and while we're thinking of making drinks there's a dark-leaved Elder nearby…pink elderflower champagne anyone? Oh, and some of the raspberries are actually meant to be yellow (they're very tasty too). And did you know you can eat violet flowers? Well we're growing them next to our globe artichoke, another flower you can eat, and near the chives and garlic chives – all edible. There's one plant of asparagus and the shoots of Hostas are a great delicacy in Japan – that's if the slugs and snails don't get there first."
The rest of the garden includes a variety of plants that can be eaten either by people or birds and includes blackcurrants, alpine strawberries, gooseberries and raspberries. As well as 3 small apple trees, a Hop plant, Rhubarb, we have included nectar-rich flowers in the borders to encourage bees and insects to visit our apples and other fruit bushes. The garden is visited by over 1500 pupils a year and it is hoped that they will take away ideas from the garden to  try at home you can see more information about the garden on our website http://www.teeswildlife.org/what-we-do/inspiring-people-to-take-action-for-nature/growing-food-for-the-future/tee-valley-wildlife-trust-growing-wild-garden/
The garden was put together with the help of Trust staff and volunteers with special thanks to Steve Ashton, Amy Carrick, garden designer Martin Allen and Woodland Connections. For more information about what the Tees Valley Wildlife Trust can do for your school visit:
http://www.teeswildlife.org/discover-learn/for-schools/how-we-can-help-your-school/