Posted on 28th October 2014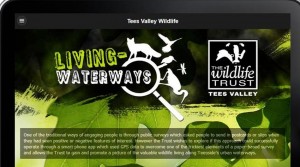 The Tees Valley Wildlife Trust are looking for people to try out their new Living Water ways app. The app allows you to upload pictures of species of wildlife you see around the Tees Valley and especially on Trust reserves.
Take a photo with you smart phone and upload it via the Living Waterways App along with your details and the information is automatically sent to the Tees Valley Wildlife Trust database including your coordinates. This will give us vital habitat information on a variety of species living amongst our communities.
It allows the Tees Valley Wildlife Trust to gain and promote a picture of the valuable wildlife living along  Teessides's urban waterways. All your input, be it a footprint of a water vole or an actual sighting is vital to us, so send us all you have and become a vital member of our cause.
To receive information about how to become an Living Waterways App Tester drop us an email at info@teeeswildlife.org