Sir David Attenborough highlights why the natural world is so important to us all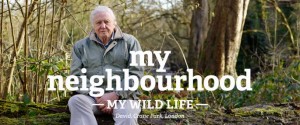 When we stop and think, we all know that nature is good for us – but how often do we stop and think? Tees Valley Wildlife Trust is launching My Wild Life today which encourages us all to stop for a minute to reflect on what wildlife means to us and think about how to make wildlife part of our everyday lives. If we did this, not only would wildlife benefit, but so would we – because contact with nature is good for us. Those people lucky enough to live near and experience green spaces have a 50% chance of being more healthy – both physically and mentally and are 40% less likely to become overweight or obese.
Sir David Attenborough has travelled the world in search of wildlife but in London where he lives he can watch stag beetles flying in his garden and marvel at ancient trees in London's parks. Sir David, The Wildlife Trusts' President Emeritus, says: "Contact with nature should not be the preserve of the privileged. It is critical to the personal development of our children."
Tees Valley Wildlife Trusts From Blue to Green Project – Nature based interventions for Mental Health means that we have an inclusive approach to the work we do. We involve people with and without poor mental health, bringing together the benefits of nature and volunteering to improve well-being for all in many ways, as well as raising awareness and reducing the stigma surrounding mental health.
Tees Valley Wild Green Spaces works in partnership with a wide range of community based green place groups, youth groups and students delivering small scale sustainable biodiversity conservation projects on a wide selection of public green spaces throughout the Tees Valley, through volunteer programmes of practical biodiversity recording and conservation work.
This is why Tees Valley Wildlife Trust are encouraging people from all walks of life to share their own personal stories about what nature means to them. Sir David Attenborough is one of hundreds of people taking part so far, alongside students, nurses, families, volunteers, teachers and many others from across the UK. From today his, and other stories, can be found at www.mywildlife.org.uk where people can add their own story and discover wild places near to them.
Sir David continues "People turn to nature in moments of joy and in moments of sadness. We are part of the natural world: we depend on it for the air we breathe and the food we eat. The Wildlife Trusts are helping people to understand their role in the natural world and their dependency on it. This is essential if we are going to speed nature's recovery."
Simon King OBE, The Wildlife Trusts' President, said: "People across the UK benefit from the work The Wildlife Trusts do – from nature therapy projects to forest schools, the thousands of wild places we care for and our work bringing back wildlife and natural processes to landscapes. We've always known that contact with nature can make a big difference to people's lives. The evidence is now building to back this up. We hope these stories inspire others to think about their relationship with the natural world and to make nature part of their life."
John Dear volunteers for Tees Valley Wildlife Trust and his story features in My Wild Life. John says: "A primary school pond life project fired my interest and love of nature which has never left me. Over fifty years later I look back with gratitude for all the wonderful hours spent enjoying nature as a life long hobby and as part of my working life as a Science Teacher."
As well as providing thousands of opportunities for people across the UK to make nature part of their everyday lives, The Wildlife Trusts are calling for a Nature and Well being Act in England to put nature at the heart of decisions about how our country is run, including health, housing and other development, education, economic growth, and flood resilience. The proposals have been put forward by The Wildlife Trusts and the RSPB, supported by a partnership of 20 organisations. (More information here)
Everyone can share their stories of the wildlife and wild places which matter to them and why, using #MyWildLife on twitter, facebook and instagram.
• Find inspiration – explore stories about people and nature at mywildlife.org.uk, including Sir David's, Simon's and Simone's.
• Share your wild life – share your 'Wild Life' and what nature means to you. Upload your story at mywildlife.org.uk or use #MyWildLife
• Wild is better, pass it on – read and share our '10 Reasons Why Wild Is Better' infographic at mywildlife.org.uk
• Make nature part of your life – see our ideas for putting the wild back in your life mywildlife.org.uk
• Ask for change – send a message to your MP asking them to and call for a Nature and Wellbeing Act in their Party's election manifesto