My car went in for some work to be done recently, so I took the opportunity to have a walk round Coatham Marsh and because it took longer for them to do the work than expected (doesn't it always) I had a very pleasant stroll around Tees Valley Wildlife Trust's Nature reserve and saw quite a few things.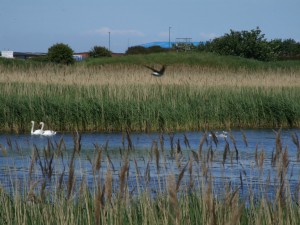 This is interesting because recently someone wrote a piece about how nothing lived there and what a poor state it was in. The site was looking at its best partly due to the hard work and commitment of Tees Valley Wildlife Trust staff but also because of the gallant effort of local community groups including FRED, Zetland Pride, Friends of Dormanstown, Dormanstown Group who have all been doing a sterling job of tidying up the local area. Not that it is really their job – we all have a responsibility to look after the environment whether it is taking litter home with us or picking up our dog poo.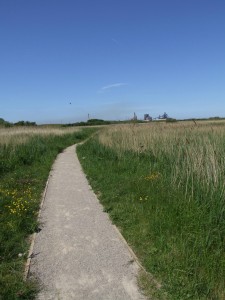 Back to the walk, the first thing I heard was a Sedge Warbler which was singing its heart out close to the Locke Park entrance to the reserve. These warblers, like a lot of the species that visit the marsh, are summer visitors, quite often from Africa, who come to places like Coatham to bring up their young. They have a noisy, rambling warble which goes on a bit and can be difficult to see but quite often perch on a bush or the reeds. Over the water I could see four more migrant species who were hawking for insects, they were Swallows, Swifts, House and Sand Martins, the latter, it is hoped will move into the custom built Sand Martin Nest bank put on the reserve last year. No signs yet but it can take a while for them to discover new places to nest especially if they are manmade. The next bird I saw wasn't a migrant but a resident – a male Reed Bunting with its distinctive black head and white collar perched delicately at the top of the reeds.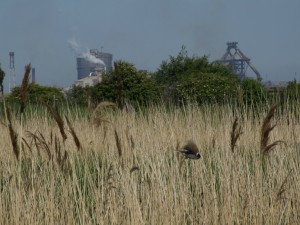 And lesser marked but equally pretty female.
As I continued my walk, I saw families of Blue and Great Tits, heard a Water Rail, Reed Warbler and  saw Whitethroat perched in and Elder bush.
I spent quite a while watching hundreds of tadpoles by one of the bridges feeding on something (not sure what) and also saw a small shoal of fish. So far I have not mentioned any of the water birds I saw but this included two Mute Swans with 4 cygnets, Mallard, Coot, Moorhen, Mallard, Tufted Duck, Pochard and I watched a Heron for 5 minutes fishing. As the weather started to warm up the insects emerged. I saw a yet unidentified moth, Common Blue and Small Heath Butterflies and Blue Tailed and Blue Damselflies.
Plant wise, not being an expert, I took a few pictures which I will be posting to the Cleveland Coast Wildflowers website  to see if they can be identified.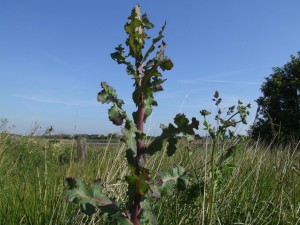 The reserve was bursting with patches of Bird's Foot Trefoil and Kidney Vetch all being used by the butterflies.
The reserve has several public footpaths and will soon become part of the England Coastal Path and has a small car park at Todd Point Rd. More information can be found here.