The Tees Valley Wild Green Places project is working with 20 community groups connected to public open spaces, which are managed in partnerships of local communities and local authorities and we've brought them all together in one place.
Come and take a look around at www.tvgreenplaces.co.uk to find out what we want to achieve and how you can be a part of it!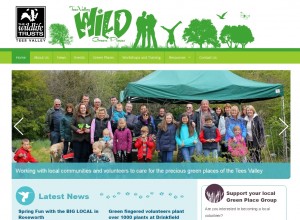 With all our latest new stories, information on upcoming events, activities and training there's lots to find out about. You can even get to know all the great groups and sites that we're going to be working with over the 5 year project.
Maybe put us in your bookmarks, so you can keep up to date on what we've been up to, as we'll be regularly updating the site with lots of pictures and stories from our latest events and activities. Our Events page will also let you know where we are going to be for upcoming events and other great opportunities you won't want to miss.
It's also well worth checking out our workshops and training page to get all the info about what new skills and knowledge you can discover.
This is also where you can sign up to our Newsletter so you can get updates on the project straight to your inbox.