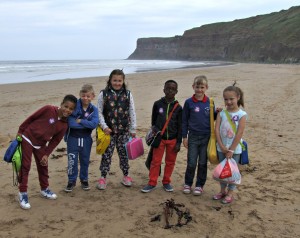 One of the workshops we offer to schools is rock pooling at Saltburn or Redcar. Depending on the tides it is possible to spend some time looking in the rock pools for a range of species of marine animals from crabs to starfish.
For Sacred Heart Primary School in Middlesbrough we combined this workshop with a rock and fossil workshop in the morning and finished of in the afternoon with a bit of Rock Art. In the morning pupils found 3 different types of crab including a very aggressive Velvet Swimming Crab and two types of starfish including a Brittle Star.
During the rock workshop pupils looked at the pebbles and learnt about sedimentary, igneous and metamorphic rocks as well as finding fossils.
In the afternoon pupils were given the task to create a piece of art work based on something they had found/seen during the day. This session was part of Children's Art Week.
More information about the workshops we offer can be found here.