Posted on 19th November 2015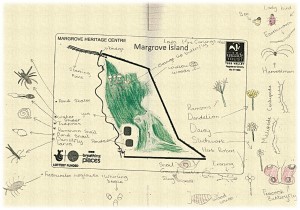 As the days get short, dark and chilly, let's warm ourselves up with a memory from those long, hot, tropical days we enjoyed in May.
Tropical? Well, yes. Our outdoor classroom space, here at Margrove Heritage Centre, became "Margrove Island" for two sunny days in May.
After a long and arduous voyage from Redcar, Year 5&6 pupils from Wheatlands School came ashore to explore the "island" in the manner of Darwin. Their mission: to discover and record the habitats, plants and animals of the island, to put detail on the sketchy map and to see if they could survive on the island in the event of a shipwreck!
During their stay, the explorers navigated their way around the island by using a map and observing landscape features, whilst also taking time to absorb the smells, textures and colours to be found here. They collected specimens of insect and plant life, which they studied and identified and, like all good naturalists, drew and recorded their finds in log books. The last task of the day was for each group to build a shelter that would keep them dry: this of course had to be tested with a tropical rainstorm. The groups were also challenged to show us how they would feed themselves and collect drinking water here on Margrove Island!
We were delighted to receive some of the maps that the explorers produced after their visit. We particularly like Keira's Peacock butterfly and Leyla's careful drawings of insects and pond animals: they look ready to wriggle off the page!
The session was designed to support a school project on Darwin and was linked to the curriculum for Key Stage 2 Science and Geography. We can tailor an outdoor learning session to your needs, including experiences to enhance skills in English, Maths, Science, Geography and Art & Design. Have a look at our schools pages and contact us to discuss your session.