As part of my degree, I was required to undertake a week long placement (Newcastle University Research and Employability Skills Module) which I chose to carry out with Tees Valley Wildlife Trust. Being a huge fan of nature and wildlife, I was delighted to be part of the important work that the Trust is involved with.
Although I am a student of Marine Science, I chose to work with Sarah on her bat project as bats echolocate in the same way as many dolphins and whales. I gained a great amount of knowledge and insight into the different species of bats that live in the area and how these amazing creatures communicate and forage for food.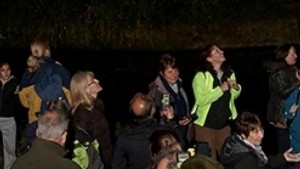 Along with learning how to use bat detectors and analyse the data, I had the opportunity to go out in the field on a bat walking survey which was educational and also great fun. Although the heavens opened up on us and we got covered in mud, just the sight and sound of the bats made it all worthwhile!
I would like to thank all of the staff at the Trust for their support, kindness and the opportunity to further my education.
Charlotte Peacock
For more information about the  East Cleveland Batscape project visit here.