Today the Tees Valley Wildlife Trust is launching a new project in the East Cleveland area to capture the changing seasons of its ancient woodlands. Funded by National Lottery, through the Heritage Lottery Fund, the Trust hopes to encourage local people to visit three ancient woodlands over a twelve month period and to quietly sense the sights, sounds, smells and textures of these remarkable ecosystems.  The woodlands being used for the project are the Tees Valley Wildlife Trust Reserve at Saltburn Gill, Hagg Wood near Moorsholm owned by the Woodland Trust and Clarkson's Wood at Loftus.

"We are seeking help from local people, children, naturalists, bird watchers, dog walkers, photographers, artists, and poets to create a collective digital nature diary that reflects the changing moods and appearance of the woods through the year and captures their beauty for others to see" said Kate Bartram, East Cleveland Heritage Officer of the Tees Valley Wildlife Trust.
The Trust will be running a programme of free workshops in botanical photography and botanical field sketching at the start of the project to encourage people to upload their photographs and sketches as diary entries to the project websitehttp://woodlanddiaries.teeswildlife.org.
Short poems and observations that help portray the woods are also welcomed. "You don't have to be an expert. We are interested in anything from the tiniest minutiae of a fern frond to a landscape picture of the woodlands. What we are trying to create is a unique montage of images, observations and sounds that capture the essence of our local woods."  Botanists and wildlife experts will be able to identify the images uploaded for you.  A visit to the Archives of the Natural History Society of Northumbria in Newcastle to examine early nature diaries and journals, the inspiration for the project, will also be organised.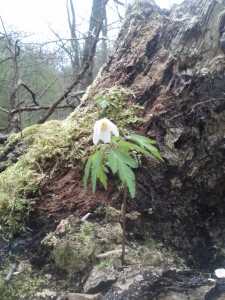 A key part of the project will be the programme of woodland walks, led by local botanist Martin Allen, through each of the three woods as the seasons' progress. Participants will be encouraged to look at different aspects of woodland ecology, mans influence on the woodlands and to take photographs and sketches to upload to the website.  The project will culminate in a woodland exhibition at Loftus Town Hall next summer. To find out more about the workshops and walks, visit the project website at http://woodlanddiaries.teeswildlife.org .