During the summer term, Teesside University and the Tees Valley Wildlife Trust work together to offer students a six-week summer internship and valuable experience in their field of study. This year, I was lucky enough to gain one of these internships, working alongside TVWT's Education Officer, Jacky. As a Biological Sciences student, this placement was a good opportunity for me to decide what I would like to do with my degree after graduation: go into teaching or further my studies with a masters in ecology.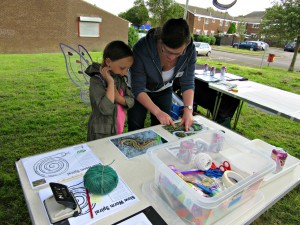 My primary focus was to assist Jacky with the environmental education sessions the Trust runs for local schools. Over the six weeks, I assisted with planning and running many school sessions, all of which had a theme. On one occasion, a school wanted to focus on seed dispersal and I was asked to research and create my own activities. To begin with, this task seemed quite daunting but I received guidance and support from Jacky. As a result, the Trust received positive feedback from the school's teaching staff.
On numerous occasions, I co-led education activities with my fellow Teesside University student, Lauren. Although I found it difficult at times, I thoroughly enjoyed this experience and never felt as though I was unsure or unprepared for the task in hand. I particularly enjoyed the planning process: talking through the sessions with Jacky and Lauren and being given the opportunity to plan my own "Percy the Park Keeper" session from scratch.
As a secondary project, I created handbook guides for most of the activities and themed sessions. Each handbook notes the equipment needed, education and curriculum links, important facts and a step-by-step description of the activity. I hope that these handbooks will act as guidance for any students or volunteers who assist the Trust in the future.
Before starting my internship, I was nervous about working in an office environment as I had no experience in this area. I was also worried about meeting the team out of fear that I was an outsider. My fears were unfounded as I was immediately put at ease by the welcome I received from Jacky and the other team members, who were all friendly, open and very helpful and generous with their time. I believe that my experience was so fulfilling because the team were so generous with their time – often allowing me to take part in their projects, which was immensely beneficial to me. I was given the opportunity to help out on some Beverley School sessions with Amy, Jen and Mat which was both enjoyable and inspiring as it allowed me to look at teaching from a different angle.
Being given the opportunity to be a minutes secretary for the first Tees Valley Nature Partnership meeting was very informative and a valuable experience, for which I thank Rachel, and I hope to be of some help in the future. I also took part in come "community cleans" at Saltburn with Saltburn Primary and at Hardwick with Harrow Gate Primary and a group of "Crazy Texans" (courtesy of Mat).
The six weeks I have spent working alongside the knowledgeable and enthusiastic team at Tees Valley Wildlife Trust have been nothing but amazing. I firmly believe that my time with them has been a positive and valuable learning experience. I wish to thank all the team for their help and guidance and will always make time to help out whenever possible. I would also encourage any student to take up this internship next year.