Posted on 8th August 2016
Stephen Trotter, Director, The Wildlife Trusts England, explains that Brexit offers us the opportunity to shape a better future for farming, nature and people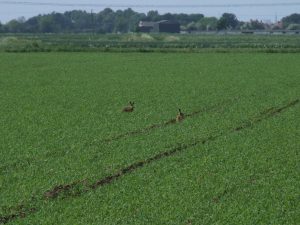 Dame Helen Ghosh of the National Trust made a speech which hit the headlines yesterday. At a time when we are facing a once-in-a-lifetime opportunity to create a new approach to how we manage our land for the benefit of people and nature, her words are most welcome to me.
With the EU Referendum over, the challenges faced by the UK's remaining wild places and species are as great as ever. It is therefore right that we have a national and public conversation about how to improve our natural environment. This conversation requires serious consideration of the principles which should replace the Common Agricultural Policy (CAP) in a few years' time. Around 70% of the UK is farmed and £3.6 billion is spent on CAP every year in the UK, however less than 12% – around £600 million – is spent on environmentally beneficial activities.
The Wildlife Trusts movement, made up of 47 charities that span England, Scotland, Wales and Northern Ireland, stand together with the National Trust and many other environmental organisations in seeking root and branch reform of the current agriculture policy. Specifically, The Wildlife Trusts are calling for an Integrated Environmental Policy: a fresh approach to farming which will allow nature's recovery.
As well as championing our natural heritage and wild places, The Wildlife Trusts also look after nearly 100,000 hectares of land with more than 7000 head of livestock and more than 22 whole farms. We also provide advice to, and work with, thousands of farmers every year. So our concerns on this issue are rooted in our deep connection with, and practical experience of managing land on a number of levels.
The UK's natural heritage is in a dire state as witnessed by a host of scientific studies (for example State of Nature 2013). The majority of our soils are either eroding or degraded, wild plants, wild animals and natural habitats are in decline and our freshwater systems are polluted and in poor condition – not to mention the increasing number of floods that are related to poor land management. The wildflower meadows that I played in as a child are now a monoculture of rye grass – they may look green but they are silent. The countryside that figures so large in in the nation's imagination is largely bereft of the species that our parents took for granted.
We also have a crisis of food nutrition with high levels of obesity and Type 2 diabetes alongside countless other diet related diseases. Added to this, farmers themselves are reliant on subsidies with an average 60% of all farm incomes coming from public payments rather than selling produce, a figure which is even higher in the uplands.
Providing unpolluted water, healthy soils, clean air, reduced risks of flooding, wilder landscapes, connected habitats as well as high quality and nutritious food is vital for us all. Whilst the CAP provided some benefits (especially the schemes that paid farmers and land managers to deliver a better environment), and it had been improved with every reform, in reality the system hadn't been working for anyone: not farmers, landowners, land managers, consumers and least of all for wildlife and our environment.
The leadership of the NFU has criticised the NT's call. Whilst we need to respect and listen to differences of opinion, in our view the farming and food sector, landowners, Government, health bodies and the environmental non-governmental organisations should now collaborate on how we change for the better: this moment in time is a huge opportunity for us to make a positive change together.
We all have a stake in achieving the best outcomes for all involved. We must avoid the debate becoming polarised between the need for food and the need for a healthy environment. This is not about either one or the other – we need both and they are interconnected – the two go hand in hand.
In particular, it is vital that farmers, landowners and land managers are valued and rewarded for providing the right solutions and producing the healthy environment on which we all depend and need. I do not believe that the current system however is not fit for purpose. Now is the chance to design a better approach that works for everyone.
Farmers, landowners and land managers must be at the heart of solutions to our environmental problems. We need to give them the right incentives so that they can deliver the environmental improvements needed to create a better place for us all to live and thrive. Food production is clearly vitally important. Farmers should be able to sell their produce at a fair price. There should be a strong market for healthy, sympathetically grown food. What individuals can't buy (but society must invest in) is the production of clean water; the storage of water and carbon in healthy soils; and the creation of wonderful wildlife habitats. This is why farmers should receive public money to support this work. A healthy, wildlife rich environment benefits us all and the taxpayer is making a good investment to put its money into this.
Brexit offers us the opportunity to shape a new future for our environment; one that addresses some of the problems of modern agriculture and land management.
Land management that is good for nature is also good for the production of nutritious food. However, food is just one of many important products and services that could derive from a more sustainable approach to land management.