Posted on 18th January 2017
I had been to a River Tees Rediscovered meeting at the Tees Barrage and it finished around 4ish and though I would wander over to Portrack Marsh to see if I could see the starling murmuration. At first I could see small groups of starlings flying in various directions and then I saw a very large group that all these smaller groups were joining. Initially the large group ranged across the skyline but eventually concentrated over the reserve swirling, splitting up and reforming and making a number of different shapes as they did it. Like me, dog walkers and other members of the public stopped and looked into the sky having a wow moment, the noise was terrific when they were directly overhead. At around 4.40pm most of the larger group when straight down into the reed beds, where you could hear them chattering, the smaller breakaway group then joined then and that was it – their safe roost for the night.
This video has proved very popular with over 27000 people watching it via Facebook.
So BBC Tees wanted to do a piece about it so I met Andy Bell on Thursday for an equally spectacular murmuration.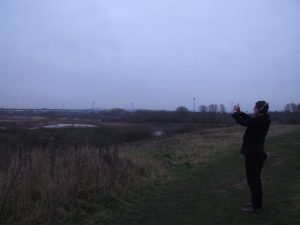 As the starlings went down into the reeds to roost you could hear the chattering listen to the video below to get an idea of what it sounded like.
Steve Ashton, People and Wildlife Manager, Tees Valley Wildlife Trust