Posted on 23rd January 2017
To begin my second week as a project assistant intern, my first site visit was to Railway Wood in Roseworth. Within my first blog, I noted that there had been some vandalism that had occurred in the area. However, the Trust were easily able to correct this and the atmosphere throughout the morning was incredibly positive. The Trust are persistent with their work despite any minor setbacks. Their consistent efforts and refusal to give up is one of the many reasons why their work is so effective. The results from the day spent working at Roseworth stand as a prime example of this.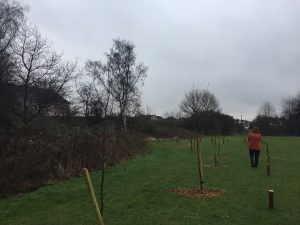 The work began early Monday morning and continued into the afternoon; however we were lucky enough to have several members of staff and One Planet Pioneers apprentices contributing to the workload. We planted around 300 trees, so we now have approximately 1200 – 1400 trees within the area.
Collectively we planted a small variety of species:
Silver Birch
Oak
Hawthorn
Hazel
Field Maple
Dog-rose
Dogwood.
Thanks to the Trust and the apprentices, the work carried out was successful and the area has been significantly improved. Following the work that was completed at Roseworth, we proceeded to another of Tees Valley Wildlife Trust's sites named Tinker's Yard. This particular area is situated in Norton. The trees, which had been planted there by the Trust, are all currently in excellent condition. Despite the outcome being positive and overall productive, I found that the vandalism was very disappointing. This highlighted the issues surrounding conservation in local green spaces and also how persistent many of the staff have to be to maintain the condition of their sites.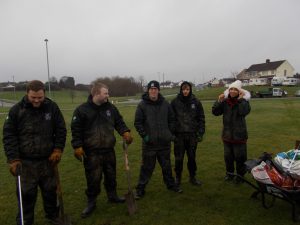 Wednesday morning was spent discussing ideas with my supervisor Susan. Susan allocated me a job which coincides with the Great British Spring Clean event. As part of the promotion for the event which is being held at our site in Roseworth, we are required to create posters to maximise volunteer participation. This particular project allows me to develop my promotional, creative and communication skills. All of which are of significant interest to me. This also created a space in which I was able to work autonomously and use my initiative when it came to making decisions on the content and layout. Susan was kind enough to offer me a training session on press releases, something I am intending to do throughout my internship at Tees Valley Wildlife Trust. The training offers me the chance to learn an entirely new skill, something I am especially appreciative of.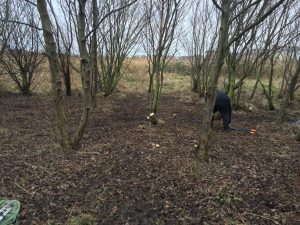 On the Wednesday afternoon, myself, Susan Antrobus and Paul Bamber attended the Middlesbrough Parks and Green Spaces Forum. This took place at the Middlesbrough Community Learning Centre in Acklam between 1:30 – 3:30pm. It was an excellent opportunity to discuss various topics. I was able to observe the importance of the meeting, as a variety of groups and authorities, such as council members, discussed local matters and raised any issues. Whilst I didn't learn any direct skills from this, it was equally beneficial as I was able to study how valuable meetings are between these particular groups and how beneficial the discussions are.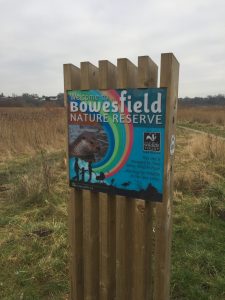 On Thursday afternoon I accompanied Amy Carrick, River Tees Officer, to the trust's Bowesfield site. This is the largest site of Tees Valley Wildlife Trust's that I have visited and I was immediately impressed with the wildlife that was present and had been previously sited there. As Amy explained on the journey to the site, we were to be working with two female volunteers that day carrying out tree thinning. This was an all day activity and after we had completed our work in the afternoon, it was evident that this was a great opportunity for the volunteers to work in a safe and energetic atmosphere. Amy discussed the idea that she would like to create a women's only group carrying out similar types of works on the trust's sites. I personally believe that this would be beneficial to both the sites and the women involved, as it provides an opportunity to be active and improve our local green spaces.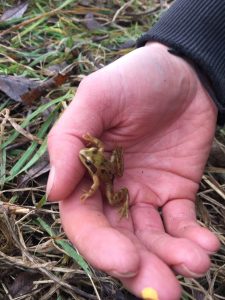 On Friday morning, alongside Amy and Education Officer Jacky Watson, I headed to Tees Barrage. We met with a class from Priory Woods School. We used props such as a bird teddy, binoculars, bird feed and bird stencils. Despite the many opportunities I have had throughout my introductory weeks, I felt this activity was one which highlighted the benefits of the Trust's work the most. Seeing the children getting so involved with the activities and excited about spotting wildlife around the barrage demonstrated how valuable it is to educate groups on local wildlife. The entire group actively engaged in the activities as we walked around the barrage and showed a consistent enthusiasm for spotting wildlife and asked questions relating to our work. At the end of the morning session, we had the chance to ask the group if they enjoyed the activities and if they felt they had learnt anything new. Many of the children had acquired new skills and knowledge such as how to use binoculars. As I previously stated, this session stood out most for me. This is due to being able to evaluate the outcome of the morning amongst different individuals. A skill which I was able to develop throughout the morning was how to interact and teach a group of that particular age (11-14). I was able to build on this skill as I have previously worked with children significantly younger; however working with a new age group presents new challenges. This meant that I had to adapt my communication to ensure I was engaging them with the activities, whilst also being enthusiastic and informative. I aim to continue to develop my communication skills over the duration of my internship.