Posted on 10th March 2017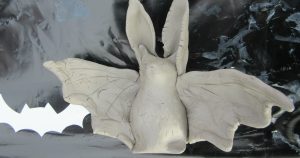 Starting my internship at the Tees Valley Wildlife Trust is probably one of the scariest things I have ever done (even surpassing the move to university, abseiling into a seemingly bottomless pit and jumping out of a plane). New places, people and the unknown unsettles me and this adventure involved moving to a place I'd never even visited before, to help with something I knew relatively little about with people who I'd never met. But I've got to say it turned out to be one of the top experiences of my life and reasserted my passion for nature and conservation.
I initially went into the placement to be a part of the East Cleveland Batscape and Wings of the Tees projects where I got involved with assisting Sarah Barry (Bat Officer) with the undertaking and co-ordinating of bat surveys, analysis of bat call data with different types of software, the erection of bat boxes, educational talks and walks and analysis of bat call data which allowed me a small insight into the highly rewarding and fascinating world of bats. Also during my time with the Wildlife Trust, I was given the opportunity to be a part of many of their other projects including River Tees rediscovered, Where the wild things were, TV Wild Green Places following Lucinda ladybird where I got to meet some of the marvellous friends/community groups and Education school visits where I think the children taught me more about uninhibited enjoyment and care of the natural world than any degree could.
Just spending 10 minutes in a room with any one of the many staff and volunteers of the trust, somehow you come out so much smarter than you were 10 minutes before. Over a single lunchtime I found out that sexual selection out trumps natural selection (so come on ladies we have the power to change our species!), that the real question we should be asking is not 'why were the arms of the T-Rex so small? but rather 'why did they even have arms?', how bees make their honeycomb and the fundamentals of how to weave a wicker basket. And I got to spend 11 weeks with a group of truly amazing people who made me feel like part of the family as soon as I arrived and taught me things I never knew I didn't know. This time with the trust has given me new skills and experiences that I know will be invaluable to me throughout my life.
I'm so grateful to all the amazing and interesting people I got the chance to work with and meet through my time with the trust and would greatly encourage anyone who gets the chance to volunteer with the Wildlife Trust to do just that – you will have no regrets! Thank you.