Posted on 21st December 2017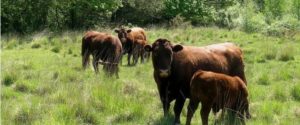 New report shows how much Government might need to pay farmers and land managers for their role in looking after our natural heritage
A new report "Assessing the costs of environmental land management in the UK" commissioned by The Wildlife Trusts, RSPB and the National Trust, shows how much Government might need to pay farmers and land managers for their role in looking after our natural heritage.
Agriculture has had the biggest impact on the UK's wildlife than any other factor, and there is an urgent need to reverse the fortunes of wildlife and the natural assets (the soil, water and habitats) which we all rely on.
The Wildlife Trusts advise thousands of farmers each year about managing land for wildlife, and between us, the RSPB and the National Trust, we own or manage thousands of hectares of land directly. There is a risk that the £3 billion currently spent per year by the Government through the Common Agricultural Policy (CAP) could be lost after Brexit. We believe it must be redeployed.
Ellie Brodie, Senior Policy Manager, of The Wildlife Trusts says:
"Farmers can sell the food they grow through the market. But they can't sell a whole range of services that society needs them to provide, whether it's reducing the risk of floods downstream, creating habitat for bees or improving the health of our soils. The Wildlife Trusts believe that farmers should be paid for this as it benefits us all. A healthy, wildlife-rich natural world is valuable in its own right and is also at the core of people's wellbeing and prosperity. We must be prepared to pay for these benefits."
The report estimates that meeting existing government commitments to improving natural assets such as water quality, soil health and biodiversity will cost £2.3 billion per year. But meeting existing commitments will not be sufficient to halt the decline of the UK's wildlife and reverse this trend.
£2.3 billion is five times more than is currently spent through agri-environment schemes – the source of most current environmental land management funding. This figure does not include wider financing required in the farming sector, for example for research and development or providing advice to farmers.
Ellie Brodie continues:
"We propose that future farming and land management budgets need more than the £2.3 billion for environmental land management alone. If we invest now, we'll see a return of species that were once common but are now rare, the return of hedgerows for wildlife, rich soils for capturing carbon, and woodland that is not only beautiful, but can help to reduce flood risk."
Folow links for the Policy Briefing and for the full report Assessing the costs of environmental land management in the UK