Do you have an old wooden tea chest taking space in your garage or shed? Why not donate it to the Tees Valley Wildlife Trust so it can be repurposed into a nesting box for barn owls as part of a major new conservation project. Barn owls have been declining in numbers since last century. One of the reasons for the fall in numbers is the loss of nesting sites such as old hedgerow trees and traditional barn buildings. Fortunately, barn owls will readily use appropriately built and located artificial nest boxes. The Wildlife Trust is working to support and rebuild the regional barn owl population by creating a network of nest boxes across East Cleveland and other parts of the Tees Valley with the help of landowners.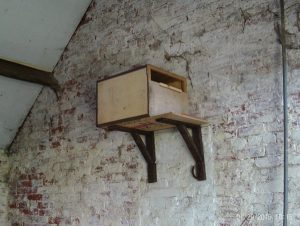 Old wooden tea chests are the ideal size for adaptation into an internal barn owl nest box said Colin Gibson, a volunteer with the Wildlife Trust. "Placed on beams, or other supports, in farm buildings we have been quite successful in the use of tea chests to provide new nesting sites. They are just becoming more difficult for us to find so if anyone out there has a tea chest looking for a new home we'd be really appreciative."
The Wildlife Trust will be contacting landowners across East Cleveland in the coming months to ask if they would like to participate in the project, including any people with existing barn owl nest boxes whether they have birds breeding or not. "By looking at the collective effort of all the individual landowners who support barn owl conservation we should generate one of the most detailed studies of barn owls in the Northeast." said Kate Bartram of the Wildlife Trust. "Long term population studies are vital if we want to keep seeing these remarkable birds."
The Nest Box Network Project is supported by funding from Northumbrian Water's Branch Out scheme and the National Lottery through the Heritage Lottery Fund. If you have an old tea chest that you could donate to the project as a new home for barn owls or a landowner who would like to take part in the project, please contact the Tees Valley Wildlife Trust. Email: info@teeswildlife.org. Tel: 01287 636382.