Take on the Big Wild Walk for nature & climate
Help The Wildlife Trusts tackle the nature and climate emergency by challenging yourself to a Big Wild Walk this October half-term. Between 25th and 31st October, we're asking nature lovers to fundraise for The Wildlife Trusts, as we embark on our mission to protect at least 30% of land and sea for nature by 2030. In honour of our 30 by 30 goal, we're challenging you to take on one of the following:
· Walk 30km over the Big Wild Walk week
· Walk 30km in three days
· Walk 30km in one day
· Do 30,000 steps over Big Wild Walk Week
Alternatively, you can create your own challenge. You'll even receive a Wilder Future tote bag when you raise £30! For more information, you can head to our FAQs.
Already signed up? Your downloadable resources are below! 
I would highly recommend that people take part in this challenge. It gives you the ability to explore the natural world while giving back to it.

Sam Hockaday raised over £500 for his Wildlife Trust in 2020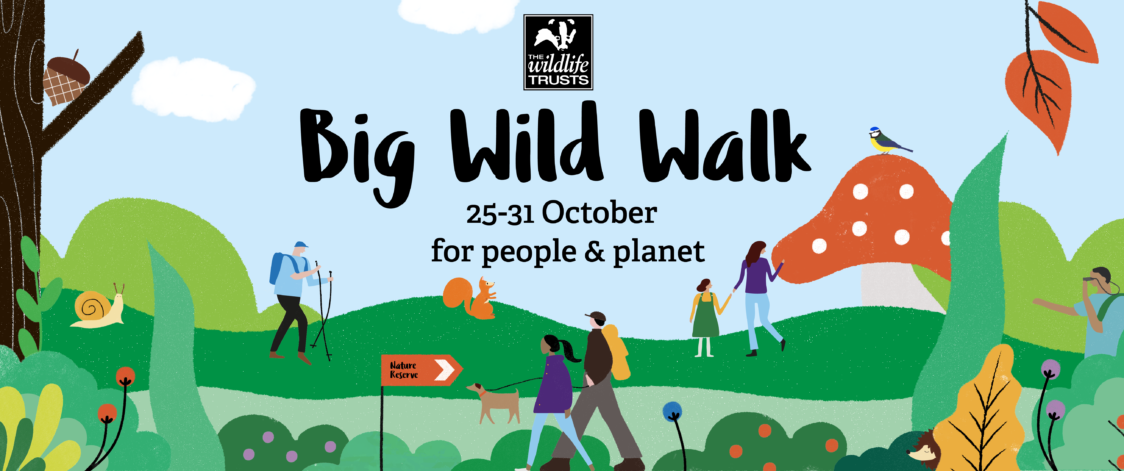 Your resources
You'll need your Big Wild Walk checklist, download your tracking sheet to trace your progress, and have fun on your walk with the autumn leaf and October wildlife spotters. If you'd like to fundraise offline, we've also created a sponsorship form you can print off.
You can add a frame to your Twitter or Facebook profile picture here.
We've also created four social media badges for you to post at various points of your walk: "I'm doing the Big Wild Walk", "Join me on my Big Wild Walk", "I'm halfway through", and "I've completed my Big Wild Walk".
You can download a pre-written email asking your friends and family for sponsorship here.