Vine House Farm Bird Food
Vine House Farm Bird Foods has been working with The Wildlife Trusts for the past 10 years, helping to protect and restore areas for nature and inspire people to experience wildlife first-hand. To date, Vine House Farm's donations have totalled over £1,250,000, including over £4000 for Tees Valley Wildlife Trust.

Did you know, the first time you buy from Vine House Farm wild bird food £5 is donated to your local Wildlife Trust, with up to a further 5% of sales on an ongoing basis?
The Wildlife Trusts have been in partnership with conservation award-winning Vine House Farm Bird foods since 2007 because their business is committed to protecting and enabling the environment they work in to thrive.
Passionate conservationalists, Vine House Farm are leading the way in wildlife-friendly farming – growing, packaging and dispatching the vast majority of bird seed they sell from their Lincolnshire farm, ensuring their family-run business always operates with the environment in mind.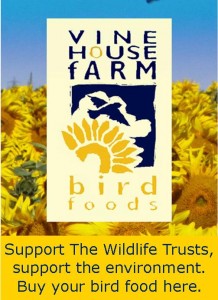 Support Tees Valley Wildlife Trust by buying your birdfood from Vine House Farm
If you buy your bird food from Vine House Farm 4.5% of the takings go straight to your local Wildlife Trust.
The Wildlife Trusts have worked with Vine House Farm Bird Foods for over five years. We work with them because as much seed as possible is grown, packaged and dispatched from their conservation award winning farm in Lincolnshire. What's more 5% of the value of your order goes directly to your local Wildlife Trust to support activities in your community.
Click here to visit the Vine House Farm online shop.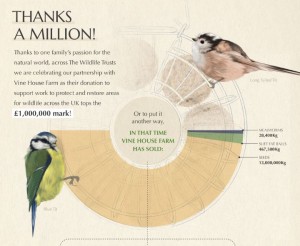 This beautiful infographic by Clara Prieto really shows the scale of the difference that this bird food has made!
Did you realise that the bird food sold by Vine House Farm during this time would fill 26 million bird feeders??
Take a look at the full infographic here, and be amazed!