Brewsdale is an intimate reserve, a quiet spot on a small tributary of the River Leven where woodland flowers, birds and butterflies can all be found.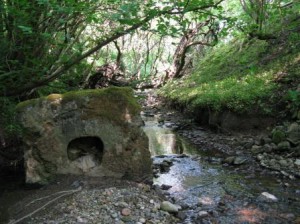 The Leven cuts through farmland on the southern edge of the Tees Valley and includes some large areas of undisturbed ancient woodland, newer plantations and riverside meadows. Brewsdale provides a circular walk just half a mile or so in length, but which allows the visitor to see much of the natural interest of this forgotten corner of the region.
The valley has fairly steep slopes, supporting scrub woodland with hazel, hawthorn and ash trees as well as field maple. Spring and early summer are a good time to enjoy a display of woodland wildflowers including early purple orchid, primrose, hairy St John's wort and sanicle. Ringlet and other butterflies can be spotted along the woodland paths, while the scrub and boundary hedges support good numbers of farmland birds such as yellowhammer and tree sparrow.