Please note: This competition has now closed. Check out the amazing winners below!
Many of you very kindly buy 'The Wildlife Trusts' sets of cards every year, but this year we thought we would do something a little bit different and a lot more local…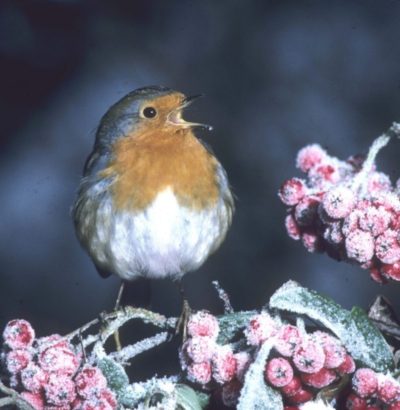 After being involved in the annual North East Wildlife Photography competition for many years, we know that there are many of you out there taking snaps of our amazing wildlife across the Tees Valley, and through our Woodland Diaries and Talent Match projects in particular this year, we have found that many of our volunteers and supporters also have fantastic skills in drawing and painting local wildlife too.
To celebrate all of this we invited you to submit your images to us with a chance to win these being used in a set of Tees Valley Wildlife Trust Christmas cards to go on sale from November 2017 on our website and at stalls and events right across Teesside through the Winter period and beyond, as we will be getting cards printed that will be blank inside so they can be used for any occasion – seen and sold all year round.
The 1st prize winner (Christmas Robin above) will be featured on the front cover of our November 2017 issue of 'Wild Tees' magazine, the 2nd prize winner and 8 runners-up feature inside the magazine. The images will be used on our social media, posters and promotional materials with full credits of course, as well as on the set of cards.
Many congratulations to our winners – the entries below are fantastic!
1st Prize – 'Christmas Robin' photograph by P Evans (above)
2nd Prize – 'Goldfinches on teasel' watercolour by E Price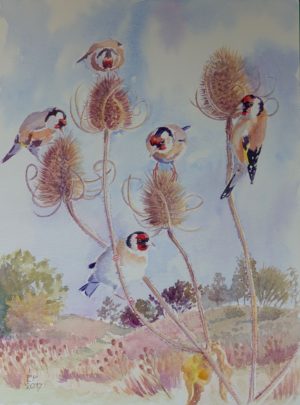 And our Runners-up (from left to right below, but in no particular order of winning):
'Bluebells at Clarkson's Wood' photograph by A Barnes
'Autumn Bramble' watercolour by J Devasagayam
'Jay' photograph by P Evans
'Damselfly' photograph by S Leahy
'Tortoiseshell at Cattersty Gill' photograph by R Barry
'Hoggys' photograph of natural artwork by the Friends of Errington Woods
'Leven' photograph by G Price
'Winter Scene' photograph by S Crabtree
Of course all proceeds from the sales of cards will go straight back to helping our local wildlife.