Thousands of people have been calling on Government to stand up for nature. This election is a chance to up the volume – and tell candidates that they must back an ambitious Environment Act.
It's no big secret that we all depend on nature. It's also no secret that nature is in deep trouble, in the UK as much as anywhere else. More than half of our species are in decline and the UK is now one of the most nature-depleted places on earth.
But the momentum for change is growing rapidly. Governments around the world are declaring nature and climate emergencies; the environment is always in the news, increasingly on the agenda; and ever more people and groups join the climate strike movement, realising they can no longer sit still.
It seems our Government can't stay still, either. The calling of a general election provides a golden opportunity to build on this momentum. We can all urge parties and their candidates to act now and act decisively. Because that's what nature, and we ourselves, desperately need – decisive action that will turn things around.
We can bring it back
The Wildlife Trusts work every day, up and down the country, to protect and restore our special wild places, working on the ground to find solutions to nature's decline. Every day we come face to face with the pressures on nature in Britain, and we know that nature can recover. We also know what's needed: better protections and a connected landscape and seascape, with space for nature to thrive.
To achieve this, we need legislation that will give nature these protections and we need to put nature's recovery at the heart of planning, farming and Government. That's why The Wildlife Trusts are calling on the national parties to pledge to:
Back an ambitious Environment Act with legally binding targets to restore nature, a powerful, independent environmental watchdog, and a Nature Recovery Network to protect and join-up important places for wildlife.
Introduce an Agriculture Bill that pays farmers for helping wildlife and for rebuilding our natural countryside, so that public money is used for the good of everyone and farmers help create a connected landscape
Revive our marine environment through a network of Highly Protected Marine Areas and a new Marine Strategy to guide how we develop at sea, how we fish within environmental limits and how we restore our marine ecosystems to support plentiful fish and wildlife.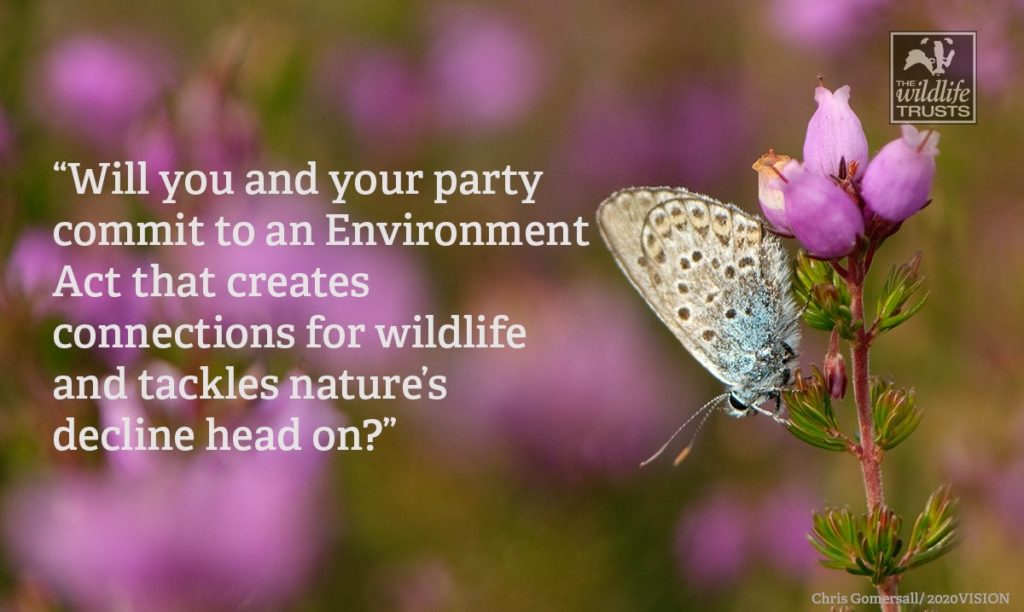 Use your voice!
Election candidates will be going door to door and talking to you about what they stand for. You can use this chance to let them know how much you care about wildlife and show them that nature matters to us all.
If you want to quiz your candidates on what they'll do for nature, we've put together a few quick questions you can ask them:
How will you and your party act decisively to tackle the crises in the natural environment?
You could also ask: Will you and your party commit to an Environment Act that creates connections for wildlife and tackles nature's decline head on?
What will your party do to support farmers in contributing to nature's recovery?
If you want more detail, ask them: Will you and your party introduce an Agriculture Bill that pays farmers for helping wildlife's recovery and other positive environmental actions?
What will your party do to protect and revive our seas?
More specifically: Will you make sure that our seas are managed properly, and important marine habitats are given the high level of protection they need and deserve?
Make a bigger splash – share these questions with others who care too!