Campaign for a Wilder Future – Write the next chapter for wildlife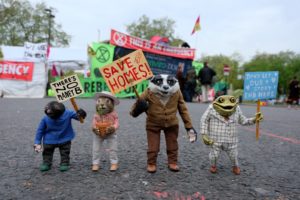 The natural world is in a critical condition. Let's put it into recovery.
We love the classic story The Wind in the Willows. But since Kenneth Graeme's beloved characters Toad, Badger, Ratty and Mole were first introduced almost 100 years ago, the UK has become one of the most nature-depleted nations in the world.
Recent analysis shows that one in seven UK species are at risk of extinction today. The State of Nature 2019 report also highlights the total number of breeding birds has dropped by 44 million over the last fifty years; and that less than 45% of woodland is managed sustainably. We've imagined what The Wind in the Willows would look like in 2019, and it's not a happy story.
What's the solution?
A Nature Recovery Network (NRN) set in law will map the places where wildlife needs to be protected, highlight the spaces where more habitat could be created, and reveal the areas where biodiversity should be restored. At the same time, this will allow the right investment into the right activities, and guarantee the right regulations are enforced. A NRN will also set targets for environmental improvement and nature's recovery, and require integration between national and local regulation, spending, investment and action.
We want to see a Nature Recovery Network established through the Westminster Environment Bill, through the Sustainable Land Management Bill in Wales, in a new Northern Ireland Environment Strategy, and in Scotland we need a National Ecological Network.
You can help!
We need your help to make this a reality.
Let's give wild spaces and wildlife across the UK the "happy ever after" they deserve… Using your views, we will influence new land-use policy across the UK. We'll share your story with politicans through a message book. People in power can't ignore our collective voice. Your words will add weight to our call for proper mapping to show where existing wildlife needs protecting, where wild spaces and species levels can be restored and where we need more.
Use the simple form to tell us about the future you would rather see. To find out more about how a NRN will work and why this is important, click in the box below.
You can help by

Signing our pledge – see below