The nature and climate crises are two sides of the same coin, and one cannot be solved without tackling the other. So as the gavel finally rests on a deal at COP27, and with just a handful of weeks until the international biodiversity conference in Montreal, we review COP27's key outcomes for nature.
The deal
The COP27 cover decision affirms the vital importance of restoring a healthy natural environment. It testifies to the urgent need for greater action to protect, restore and sustainably manage nature, forests, freshwater and oceans across the world for both effective and enduring climate action and a safer, healthier future for people and our planet. It also urges countries to further restore nature's contributions on land and at sea as part of their efforts to both limit and adapt to climate change. This is underlined by critical and overt inclusions to respect the rights of indigenous and local communities when taking climate action.
While the text heeds the IPCC's latest science on the importance of tackling the climate and nature crises together, it misses the opportunity to directly integrate its outcomes with the upcoming Convention on Biological Diversity (CBD) conference, in Montreal next month – most notably on a global target to protect 30% of land and sea for nature globally by 2030.
All the above, is of course, dependent on a narrowing window to rapidly cut greenhouse gas emissions to avoid the catastrophic impacts of warming above 1.5°C. Though commitments to the 1.5°C target and coal phase down remained, no wider ambition on fossil fuel phase out could be agreed, leaving many wanting and the world warming.
Negotiations
In the negotiations themselves, nature barely featured.
The COP27 agenda was firmly focused, for the first time, on securing a funding mechanism for loss and damage, to support vulnerable countries to cope with the worst climate impacts, which it did achieve. This was particularly pertinent after a year of record-breaking temperatures and truly terrible climate impacts around the world, in addition to this COP's setting in a developing African nation.
And in the wake of these extreme weather events, protecting nature and prioritising people and nature's resilience is ever more critical. We are pleased to see that nature-based solutions and the importance of protecting and restoring nature on land and at sea feature numerous times in the final decision texts on both efforts to mitigate climate change and to adapt.
On the mitigation side, some progress was made on the mechanics of carbon trading rules between countries (known as Article 6), as part of global emissions reduction efforts. These rules are incredibly complex, and most of the detailed decisions that will determine their effectiveness, and that implicate nature directly, have been deferred until COP28 next year – specifically on whether and how avoided emissions from preventing deforestation (and possibly restoring peatlands), and nature enhancement activities that increase carbon removal, might be included. But with finite land, and countries often over-estimating removals potential, this could be risky for climate, nature and communities.
We'll be keeping a cautious eye on this, as international rules typically set the standard for in-country voluntary carbon markets too, and we know that if we are to achieve net zero, only a small proportion of nature-based solutions funding can come from carbon offsets. The UN's launch of new guidelines and criteria on companies' net zero targets is also a positive and reassuring step forwards towards zero tolerance to net zero greenwashing, to ensure the use of offsets to compensate only the hardest-to-cut emissions.
Around the margins
Around the margins, many of the side deals made at COP26 were positively strengthened or had their geographic coverage expanded in Sharm El-Sheikh. More than 150 countries are now committed to the Global Methane Pledge to cut global emissions of this potent greenhouse gas by 2030. China too, announced its own separate plans. This is important given the short-term potency of methane, in the context of our narrowing window to keep 1.5°C alive, and its relevance to high-emitting sectors including agriculture.
On tackling global deforestation, Brazil, the Democratic Republic of Congo and Indonesia have formed a new partnership for forest preservation, and the UK jointly launched the Forest and Climate Leaders' Partnership of over 140 countries, to ensure delivery on the pact made at COP26 to halt and reverse deforestation and land degradation globally by 2030.
Closed-door discussions also got underway to translate the 10 Point Plan for Financing Biodiversity into action ahead of the Convention on Biological Diversity in Montreal next month, an initiative which the UK jointly created. The plan aims to prioritise investment in climate and biodiversity solutions, including the upscaling of nature-based solutions to climate change.
Leading by example
But if the UK genuinely wants to be a credible world leader on climate and nature, it needs to demonstrate the same leadership, action, and public finance for these solutions at home.
At COP27, UK Prime Minister Rishi Sunak said 'that there is no solution to climate change without protecting and restoring nature'. We couldn't agree more.
Yet the UK is one of the most nature-depleted countries in the world and there is a gaping underinvestment in nature. Indeed, the only new domestic funding for nature and climate action announced at COP27 was the £30 million Big Nature Impact Fund, designed to unlock more private investment to tackle nature loss and climate change together. Whilst welcomed, it falls far short of the scale of investment required to turn the tide on nature's decline, which the Green Finance Institute calculate to be between £44-97 billion before 2030. Even in the Government's Autumn Statement, the Chancellor passed the buck on dealing with the climate and nature crises, despite our economic prosperity being entirely dependent on a healthy natural environment.
The Government continues to miss its biodiversity targets and has now failed to even set the Environment Act's legally binding targets before the deadline of 31 October 2022. Progress on the UK's commitment to protect 30% of land and sea for nature by 2030 is weak, with only 3% of land reliably protected at present.
Climate and nature action is little better. While we have a UK net zero target, progress in the agriculture and land sectors to reduce emissions consistently scores subpar. It is the same picture on adaptation, with public funding retrenched and advice services closed in the past decade. We are not even prepared for the current impacts of climate change, let alone future ones.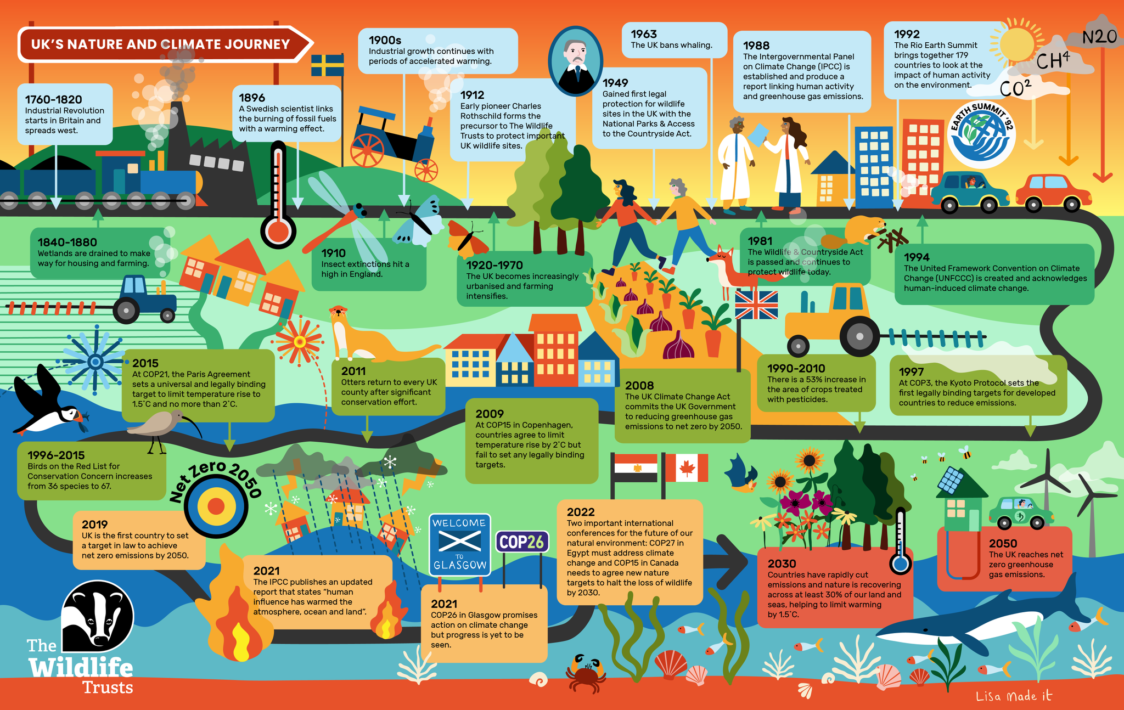 Though COP27 recognised the ultimate interdependency between the nature and climate crises and urged joint solutions through nature, little new action was committed.
Now, as the world turns from one international COP to the next, from climate to biodiversity, flipping over two sides of the same coin, world leaders have a second opportunity to commit to bold action to reverse global biodiversity loss by 2030. Tackling the climate crisis must be central to the negotiations at the biodiversity COP, COP15, in Montreal – otherwise we will not make progress on either the nature or climate emergencies. The UK must lead by example, at home and on the international stage, to create a safer, healthier and prosperous future for people and nature.