Tees Valley Wildlife Trust provides loads of great ways for you and your family to get involved with nature.
Join Wildlife Watch
Join Wildlife Watch and get:
4 brilliant magazines packed full of things to do, see and take part in
Free posters and stickers
A cool handbook with loads of ideas of stuff to do and make. To find out how to join, click here.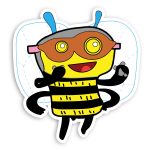 All these are included if you become a Growing Wild School.
Wildlife Watch has a super cool website where you can share photos, download stuff and set up your own wildlife profile. Check it our here.
Do the Hedgehog Award
For a different way to explore nature and help wildlife, join in with the Wildlife Watch Awards. Complete tasks and challenges to earn points and work your way towards completing the award and earning your certificate. You can complete the award online here
Go to an event
Our programme of events offers a whole range of fun things to get involved with from family fun days to child friendly bat walks. Check out the events page to find out what is happening when.
Why not visit a nature reserve?
From wide open spaces to run in to winding woodland trails to explore, Somerset Wildlife Trust has a nature reserve to suit every young explorer. Visit our nature reserve page to find out where you can visit and what you can do there with your family.