The project offered support to schools to grow food. This was very flexible and some schools already had growing areas which the project helped to improve in other we created new spaces for growing food. Several schools opted for orchards, chickens, pop bottle greenhouses and African gardens.
The schools – Hartlepool Local Authority Area
West View Primary School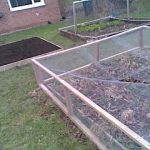 Worked with Head teacher to design and build four new raised beds for growing vegetables and one  with a fruit cage for growing fruit this was followed by a series of after schools clubs.
This was followed by working with the teacher and after school gardening group to plant up the area.  Visit to local allotment.
Throston Primary
A new gardening club helped to plant up some new growing tubs, 63 children split into two groups on two nights of the week. Fruit trees and bushes have also been planted. Richard worked with pupils to develop a new growing area. This was planted up with flowers, vegetables and fruit trees by pupils. New compost bins were built.
The school used the work on the Growing Food for the future project towards its Eco-schools green flag award which it achieved in June 2011 – it was commented on the excellence of the growing area.
St Helens Primary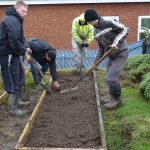 A new allotment for the school comprising of three raised beds and a potting area was developed. A lunchtime club with on average 9 children, the garden club runs 3 days a week. The head teacher was driving force behind using an under used area for growing food and starting a gardening club. The Tees Valley Wildlife Trust work team and its future job trainees were involved in building the area
With the success of the growing area the school are now looking to expand the area to include an herb garden. The school chef has written a list of herbs and crops that she would like for the kitchen.
Fens Primary School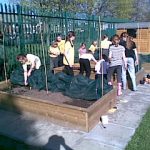 The teacher had trouble persuading the head teacher to give over a section of the school grounds to an untidy growing area. With meetings Richard managed to convince him that it was worth doing. Working with the Shaw Trust four raised beds were installed and topped up with good compost. Activities in school were followed by setting up a new gardening club with support form Richard. The raised beds were planted up and fruit trees also planted to create a small orchard.
A large scale summer sale was organised by the pupils and staff, pots and packs of vegetables had been grown from seed ready for the big day, signs and prices have been worked out with pupils in charge of the accounts. The plan is to allow the pupils to take control with a small amount of guidance.
Rift House Primary School
Richard created a growing area using oak barrels which were planted up with herbs and vegetables. A series of lessons linked tthis was delivered in school.
Brougham Primary School
Richard worked closely with a school community worker to develop an unused quad into a community allotment.
Before: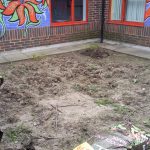 During: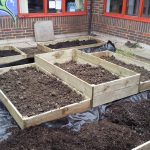 After: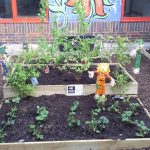 Richard did several activities throughout the school including wormeries, plant labels, scarecrows and pumpkin carving.
Clavering Primary School
The school had area ready for growing food but was not used Richard worked with Tasmin and Kevin to develop the area.Created new areas for planting Sunflower competition. A new 150m wildlife corridor was created and a series of lesson linked to all of above delivered and a vegetable sale to parents.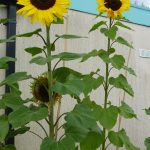 A display for a gardening event was set up at an event at the school. Over one hundred parents attended, flowers and vegetables had been in the schools new raised beds and entrance to the school, other groups that attended included Hartlpool Council and the local PCO community officer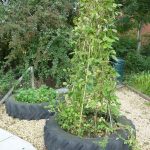 Stockton Local Authority Area
Bowesfield Primary School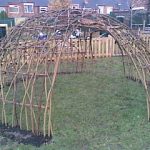 Working with a long term supporter of the Trust Emily Hodgeon they had some existing raised beds which had seen better days so new raised beds were installed by the Trust work Team and trainees.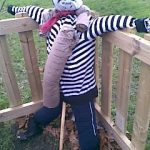 The school and we organised a family planting day, we planted hedgerows fruit trees, and vegetables. With over eighty parents and all teachers involved, it was a big success.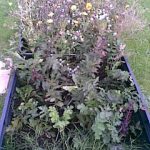 St Bedes Primary School
Several after school garden club sessions including scarecrows, guess the vegetable and Christmas planting.Two new raised beds installed with the help of the Shaw Trust several new fruit trees planted and various planting in existing areas.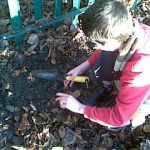 A new outdoor class room has been built in the growing area. The pop bottle green house continues to have work carried out on it. The African garden built a few months ago is now bursting into life with herbs bulbs and flowers.
St Patrick's Primary
A fruit and Herb project, to date 6 new fruit trees have been planted along with 20 herb plants, continuation of the gardening club with on average of 12 pupils. The existing beds were dug over and improved and planted up with a range of vegetables.Compost area improved, bug house designed and completed.12 new fruit trees were planted along with the inevitable Scarecrow competition.A new willow dome was also installed.
Fairfield Primary School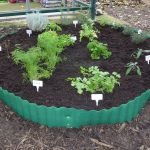 Through another project the Trust has been advising the school to ensure that they reached BREAM standards and as a result asked for a large space to be allocated for an allotment and wildlife area. This promise was kept and the Trust was involved in various school grounds improvements including herb beds, wildlife areas, insect homes, and through this project a chicken coop and fruit trees.
Other developments at the school included two performance stages with planters, new seating, and 46m sensory garden, wild seating area with logs, memorial corner and large planter to cover old cobbles.
Oak Tree Primary School
After discussion with the eco-group a growing are was designed to include 3 raised beds which were put in by the Shaw Trust.Work with this school also included several sessions with pupils doing a range of activities including planting up and use of the green house.
Rosebrook primary school
Working with Val Rudd the existing beds were tidied up and used for planting with the new gardening clubs and the greenhouse put into use.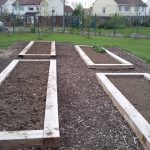 Thornaby CE VC Primary School
Richard was governor at this school and he worked with several teachers helping to develop a gardening club and built a new allotment (this one of the school he is now working at). The allotment had plenty of space for vegetables, 18 fruit trees planted and a scarecrow competition. A new tyre garden with over 150 used tyres for planting in September with herbs, for use by the pupils and school kitchen. Wooden signs were also been painted to give year round colour. Fruit wreaths have also been made with the gardening and eco group. Thornaby Primary was the school of the week next week on TFM radio whilst working on the project.
A pop bottle green house has also been built at the school.
Christ the King RC Primary
Richard worked with the school to install new raised beds, helped design nursery area which included a new willow dome – sessions with pupils of various ages.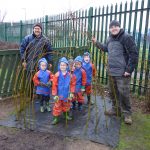 Holy Trinity Rosehill Primary School
This school was one of the first schools to get involved in the project. They has started to develop their growing area through there own project Growing Greener a creative partnership project. By being involved in Growing Food for the Future it enabled the school to develop their project further.  They held a Conference with Key Note speakers – Juliet Robertson from Creative Star learning company and Ollie Bray National Advisor for Learning and Technology Futures – The conference looked at the links between technology and out door learning.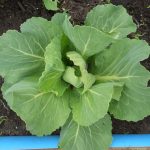 At the school they have 3 areas used for growing – the allotment, Quad and KS2 garden. Through this project they have improved all 3 areas. This has included:
Allotment area
Fencing off
Fruit trees
Redefined beds and planting up
Lots of sessions with pupils followed by cooking sessions
Sales of produce to parents
Quad
Redesign of area to include Jungle garden
Improvement of raised beds
Planting sessions as part of curriculum and after school sessions
KS2 Garden
General maintenance of garden
Work on raised beds
New raspberry plants
Due to the success of the Growing Food for the Future project the school ahs committed to buying in future support form the Trust this is a model we are trying to repeat with other schools.
More info about the schools growing greener project can be found at http://growing-greener.htrblogs.net/
Ingleby Mill Primary School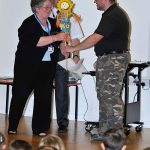 Working with Deputy Head Martin Scully in a large Primary School – lots of work with lots of pupils including development of an existing growing area and a whole school scarecrow competition with 450 entries followed by an awards ceremony.
Other activities included gardening clubs, making bird feeders and bird boxes.
Pentland Primary School
Working with the Head teacher the area at the front of school needed tidying up and it was decided to put over areas to growing and to incorporate barrels with flowers and herbs and some new fruit bushes – a good example of making use of available space.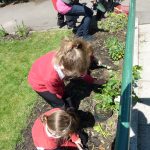 Norton Primary School
Another school that the Trust has been working with for a quite a few years and they took the opportunity to develop their  nursery area   and include some new  raised beds, an orchard a sensory path and a willow screen path.
St Therese of Lisuex Primary School
Unlike the previous school this is a new school and this project has brought the Tees Valley Wildlife Trust in contact with several schools we haven't worked with in the past. As part of this project we worked with a very keen teacher Lisa Tyson and helped towards their Eco-schools Green Flag Award. This included   a 26 Tree Orchard, new planters, bug house, herb garden and replanted existing planters.
All twenty four fruit trees are now planted, some are of local origin. The two five metre raised beds are also now installed; half of one has been planted with strawberries. The school has now gone on to plant an edible hedgerow with 12 different fruits and berries. In total 300 small plants where planted. Between my visits the garden/eco club have also built a large bug house. This has been made of six pallets and wooden poles. Soil has been put on top and turf on top of that.
The school have invested around £10,000 into the area with the addition of a large shed and new outdoor class room, There is also two new beds in the area of the outdoor classroom. Pupils planted over forty new herb plants in the reception area. A new raised planter has also been installed for root vegetables.
Work has now begun and the front of the school developing the planters outside each of the classrooms. The gardening club maintains ever popular with a minimum of 18 pupils each week. We are now starting to see fruit on the trees we planted at the beginning of the year.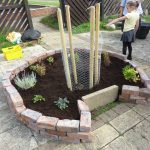 St John the Baptist Primary School
Working with an enthusiastic lunch time group involved replanting existing beds and creation of an African Garden.
All of the old hedging and shrubs have now been taken out; this will leave more space to grow more. The pop bottle green house continues to be built. Existing beds have been improved and new soil added. The new African garden is now complete, and the compost area is now barked and can be used as it should be. Between lessons the school has installed a small pond.
William Cassidi Primary School
A small primary school on the outskirts of Stockton-On-Tees. The project has installed a new African Key Garden. The garden is fully planted with alpine strawberries and herbs. A pop bottle green house, six new growing beds and a fence around the area to define the new growing area. . This school has a strong ethos on healthy eating, so to strengthen this, the project will also be planting an extra six fruit trees.
Roseberry Primary School
The reputation of the Growing for the Future African gardens is spreading and this school wanted one! Along with a pop bottle green house help with gardening club and planting up of existing beds.
St Cuthbert's Primary School
Working with Lucy Beaumont and a parent to develop their food growing area several after school clubs helping planting and doing hanging baskets. Worked with pupils and parents to clear out an over grown shrub bed to create a new fruit growing area with blackberries, raspberry and gooseberries. A new herb bed has been created near School kitchen.
Middlesbrough Local Authority area
Marton Manor Primary
New allotment area with new raised beds, picket fenced area, stage and seating as part of development and a hungry caterpillar mosaic.
We have now planted eight new fruit trees and installed a new fence and gate; this will make the area a safe new outdoor classroom. The school has planned to install seating for in this area.
Green Lane Primary School
Worked with Eco-schools co-ordinator and garden group teacher to develop anew exciting project for the school and this project –the first school who wanted some chickens.The Coop was constructed by the Tees Valley Wildlife Trust work team and future Jobs fund trainees.
The chickens were re – homed from a local centre and have become very popular with children and staff alike.
St Gerard's R C Primary
A very keen gardening group with support from parents help to develop existing beds – support for teacher helping her to know what to plant when led to a bountiful harvest which was use din the kitchens and given to parents.
Newham Bridge Primary
Working with Mrs Hall and Caretaker Paul new raised beds were installed, a compost area developed and water butts installed. The flower beds were vastly improved when pupils helped to design and plant out plug plants. An herb garden was created and an area for mini-beasts improved.A new water butt has been installed. The school are linking growing with dig for victory and world war two.  The school and I gave vegetables and flowers to the local care home, so this year we are growing a full bed of flowers to give to them at the end of the year.
St Thomas More Primary School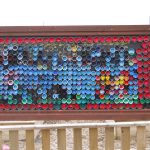 The school has been working forwards its Eco-schools green flag and as part of its action plan it included a development of a new allotment area. This project enabled it to do that. The planting of six small fruit trees. A new fenced off allotment with six new raised beds a shed and a pop bottle green house. The school is also hosting a gardening day, open to all parent and the local community to help with the tree planting and the planting of the new raised beds. The pop bottle green house will need around two hundred and fifty two litre bottles.
Richard supported several teachers in deciding what to grow and a gardening club helped with general maintenance, the Chair of the governor at the school is very keen and was please when the school decide to build a pop bottle green house – he supplied them with lots of tomato plants. A wildlife area has been created with tree planting as well as a small orchard, bug hotel and a wildflower area. Parent and Child cooking lessons are now being delivered at the School using produce from the allotment which we have grown. There are future plans to install an outdoor tap in the new School year to help fill up the water butts. The court yard area has now been turned into a sensory garden and the whole school is now using the allotment as an outdoor classroom for lessons throughout the curriculum. Growing has now been included in the curriculum to enable sustainable future.
Abingdon Primary School
Several new raised beds we created and then used by the schools gardening club.
Ravensworth Junior School
Richard worked with Head teacher to further develop their chicken project, raised beds and raspberry beds.
Grangetown Primary School
Grange Town Fire Station has started to develop a piece of unused land at the side of the station, to be used as an outdoor learning area. The aim is to involve local schools, parents and local groups. The school does not have a great deal of space so Richard worked with the local fire brigade and pupils to develop some raised beds at the fire station which are looked after by pupils as well as fire station staff when not busy. Growing Food For The Future Project helped with the costs of the building materials, and has had the local inmates from Kirkleatham Prison built the raised beds. This area is developing into a fantastic space with plans for a large pond, theatre and outdoor classrooms.
An insect house was also created by pupils at the school.The school also had a scarecrow competition,
Teesville Infant School
A new area was developed with new raised beds and various classroom activities.
Marton Grove Primary school
Richard did a slightly different project with this school working with gardening club to develop a living scarecrow.
Caldicotes Primary School
A new teacher was the catalyst to start some work on their growing area they had developed a Insect Hotel which lead on to the pupils in the special unit want to try to grow their own vegetable we did some work on improving the raised beds planted onion and garlic. They also planted fruit trees.
Redcar and Cleveland local Authority area
Saltburn Primary School
The pupils wanted some new raised beds in the school to grow herb and vegetables. They decided to make the beds in the shape of a compass rose so that it can be used in the curriculum.They also planted fruit trees and scarecrow competition.
Saltburn Primary are an example of a school that is pushing the extracurricular gardening club and up too four parents have been attending each week; the project has enabled them to increase their confidence. They also had a visit to their local allotment site.
Badger Hill Primary School
The school needed lots of work tidying up the school garden replanting and creation of new areas for veg. An African garden was done with the help of the pupils – a very enthusiastic gardening club.  Some of the food grow was used in the school kitchens.
Bydales Academy School
This school has been a Green Flag eco-school for several years and has sustainability as its specialization. They already had a growing area but their fruit trees had died and a teacher said that they were wanted in get some hens. The project facilitated this and also helped with training pupils and staff to look after them as well as some work on the allotment garden.
Errington Primary School
Richard worked with the gardening club to improve existing planters. The school also paid a visit to the local allotment site to see how the local do it. The Pupils got a great deal out of the visit and the local were pleased to see the youngsters taking an interested in growing
Freebrough Specialist Engineering College
As part of an enterprise project Richard worked with pupils to do a series of planting session to grow small plants which were sold as part of a community day at the school.At Freebrough Secondary School they now have a community morning every Saturday for two hours; people can swap plants, share knowledge and help develop the new garden area.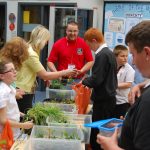 Lockwood Primary
Lockwood Primary has a well developed growing are and it was decided to link it to a creative partnership project they were involved with. We worked with the school on a theme of food and music from around the world which culminated in pupils growing different food and then having harvest, cookery and music event.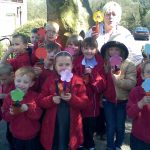 Holmwood School
A special school with plans to develop the outdoor area the school has an existing growing area. Richard worked with pupils to develop the area plans with the school gardening clubs. There was also a Scarecrow competition.
Skelton Primary School
A new Poly tunnel and raised beds have been installed ready to be used, growing on a larger scale is new to the school time has been spent with teachers and parents to increase knowledge and confidence.