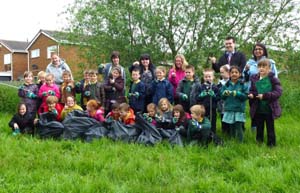 Two ponds were excavated on the banks of Cowbridge Beck as part of the Living Waterways Project. These were designed to intercept surface runoff from the adjacent land and improve the water quality of the beck. They also provide additional flood storage in times of high flow.
To compliment the work, pupils from Oakdene Primary took part in a litter pick as part of their ShocFlood project. A staggering 10 bags of rubbish were collected all of which could pose serious flood risk in the area especially if they blocked the entrances and exits to culverted sections of the beck.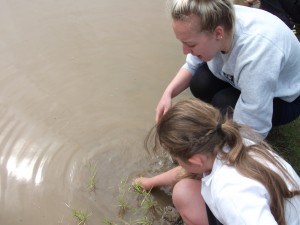 Following excavation of the ponds some time was left for water levels to rise and the sediment to settle. Pupils from Saint Josephs RC Primary then came along to help plant common reeds (Phragmites australis) in the new ponds. Common reeds are well known for their phytoremediation (pollution treatment) qualities and so their presence in Cowbridge ponds will further enhance the water quality of surface runoff.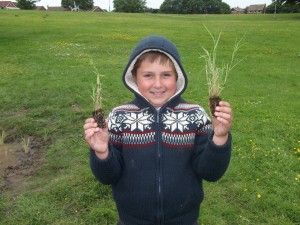 Living Waterways is now working to resolve misconnections in the Cowbridge Beck area. For more information on the project or to get involved please contact:
David Johnson (Project Officer)- Tel: 01287 636 382 Email: [email protected]