We have had some fantastic results from this year's bird boxes that were erected as part of the Wings of the Tees project. These boxes were erected and maintained, and birds ringed and monitored, by experienced and licensed British Trust for Ornithology and Teesmouth Bird Club volunteers. Out of 14 boxes erected, over half have been occupied! The results are as follows:
5 Tawny Owl boxes have been erected, 2 of which were successful with 5 chicks ringed
3 Kestrel boxes have been erected, none of which have been successful yet but a local farmer has observed a kestrel sitting on top of one them so this looks hopeful
1 Little owl boxes has been erected, this has yet to have nesting Little Owls, but has been used by Starlings which successfully reared chicks.
5 Barn Owl boxes have been erected, all of which were successful with 20 chicks ringed.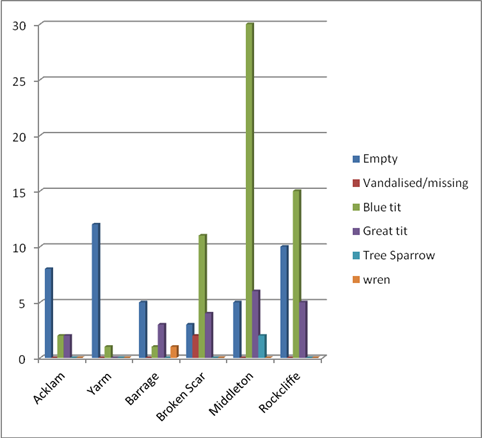 These figures include only the boxes erected this last winter and checked this summer. These figures are very encouraging considering this was only over one season. Success rates at some sites are way higher than the national average. Slow uptake at some sites is likely to be due to the fact the birds have not found them yet. We are continuing to work with local landowners to erect bird boxes and continually monitoring the boxes already erected. All boxes are using high quality materials and made to specifications for highest suitability for the birds and ease of checking for the volunteers ensuring that these boxes will be used, maintained and checked for many years after the end of the project.