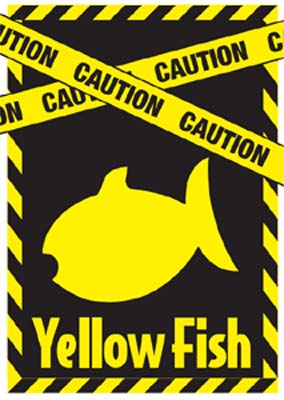 This scheme has been created by the Environment Agency in collaboration with Connect Right and has been adopted by Tees Valley Wildlife Trust.
The Yellow Fish Scheme is a fun and enjoyable way of raising awareness of the damage caused by pouring oil or other waste liquids down storm drains and highway gullies.
This involves volunteers drawing a small Yellow Fish next to drains as a reminder that anything poured down there can go straight to the local beck untreated and can seriously affect wildlife habitats.
There's been lots of schools and community groups interested in the Yellow Fish Scheme and it has been greatly recieved. It is a fantastic way to highlight pollution issues. It has given children the opportunity to learn more about improving habitats and given schools a new angle on becoming more eco-friendly. It compliments the Living Waterways Project and is great fun for all. It is hoped that the scheme will continue to grow.
Pictured are pupils from St Clares Primary School in Middlesbrough (left) and Galley Hill Primary School in Guisborough.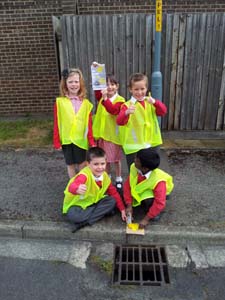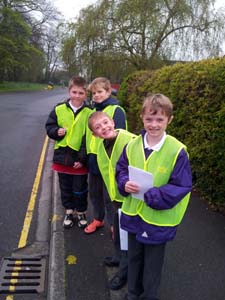 Skelton Primary School's Eco Team also got involved with the Yellow Fish Scheme. Staff from Tees Valley Wildlife Trust went out to draw the Yellow Fish one afternoon after working closely with the group on other Living Waterways activities. As part of the Yellow Fish day they also visited the local beck to to see the area that could be damaged by pollution. Jo Feary from Redcar and Cleveland council also came along to explain to the children the work that had been done around the beck by the council as well as local residents groups.
Click on the thumbnails to view pictures from Skelton Primary School's Yellow Fish day.
Photographs by Jo Feary and Rachel O'Sullivan
To see the existing Yellow Fish locations in your area click here and type in your postcode.
Water pollution can also be caused by misconnected properties. This means that appliances such as washing machines, dishwashers and showers may be accidently connected to fresh water drains so the foul water from these could be going straight to the local beck untreated.
To check if your home is connected right, please click here.
Please be careful of what you put down your foul water pipes too! Putting items such as cotton wool, cotton buds, and grease down your sink and toilet can cause blocked drains which can be a very unpleasent experience. See what you can do to prevent a blockage here.
If your community, youth or school group would like to get involved with Yellow Fish or you would just like more information on the scheme and how you can get involved, please contact us.