Get closer to nature this Christmas, with our winter wildlife challenge
Every June we challenge you to try 30 Days Wild, doing one wild thing a day throughout the month. We call these wild things "Random Acts of Wildness", and they can be as simple as watching a bird from your window, or as adventurous as exploring a new wild place. At the end of June, we set the challenge to stay wild with your Wildlife Trust for the rest of the year.
But keeping up with your daily doses of nature can be tough, especially as the days start getting shorter. So, to provide a little mid-winter inspiration, we've launched our 12 Days of Wild Christmas. The idea is simple: one Random Act of Wildness a day, from Christmas Day to the fifth of January.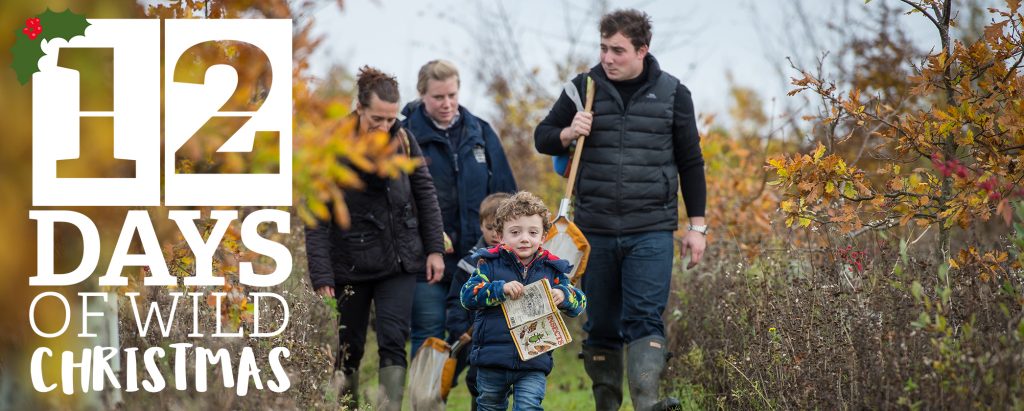 It's the perfect companion to a busy festive period, the chance to take some time to slow down and reconnect with nature – and if you need it, a great excuse to escape the in-laws for a while! We've shown through 30 Days Wild that spending time in nature can make you happier and healthier, and that's as true in winter as it is in the sunny heights of summer.
At first glance, winter can seem a bit bleak, but take a look around and you'll see that nature has plenty of gifts to offer, even in the depths of December. Flocks of thrushes chatter in hedgerows, feasting on glistening red berries; frost forges delicate, glittering sculptures on every surface; ducks dabble and dive on lakes and reservoirs; and rain-soaked mud and freshly-fallen snow preserve the footprints of birds and mammals, leaving perfect tracks to be discovered.
12 Days of Wild Christmas is also a chance to give something back. Small changes can make a difference. Recycle your Christmas tree, turn your leftovers into a tasty meal or – if you're brave enough – raise a bit of money for wildlife with a polar plunge on New Year's Day! A Random Act of Wildness can benefit the planet, as well as your own sense of wellbeing.
So, whether you take five minutes to sit and watch the birds from your window, with a mug of hot chocolate in hand, or pull on your warmest Christmas jumper for an afternoon exploring a local nature reserve, why not take on our winter wildlife challenge?
We've got some top tips for what nature can give you this Christmas, and what you can give back to nature. It's time to start planning your 12 Days of Wild Christmas!Sign up here and share your Random Acts of Wildness using #12DaysWild.