The Wildlife Trusts and young people call for more outdoor wild time at school.
A new poll shows that people believe children do not spend enough time enjoying the natural world and that they should spend more of their school time learning outdoors in nature.
It has been widely proven that regular contact with nature makes children healthier, happier, and better able to learn. The poll, commissioned by The Wildlife Trusts, surveyed 1,000 adults, and reveals:
75% believe children do not spend enough time outdoors enjoying the natural world
72% believe that in school, children should spend more time learning and playing outside in a natural setting
75% believe that school grounds should become greener, wilder places so that all children can experience nature first-hand
76% believe that learning outside enables children to understand and experience things that cannot be taught in a classroom
The findings from the poll of adults are echoed by young people involved in Our Bright Future, a £33 million programme led by The Wildlife Trusts and funded by the National Lottery Community Fund. Young people on the programme were asked: 'If you could change one thing for you and the environment, what would this be?'. One of the top three requests was for more outdoor education and more learning about nature. Our Bright Future supports learning in and about nature across the curriculum, for all ages and throughout all subjects.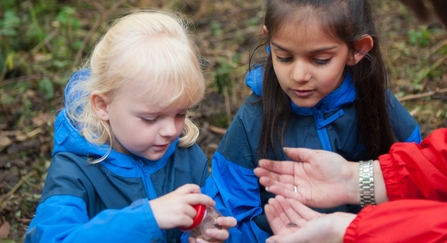 Craig Bennett, chief executive of The Wildlife Trusts, says:
"Young people are on the frontline of the climate crisis, and it is no surprise that they want to learn as much as possible about nature in order to tackle the damaged world they are inheriting. To build climate thinkers of the future we must first teach them about nature.
"But as well as learning about nature, we also know that learning in natural, wild places is extremely beneficial. As well as boosting academic learning, young people's physical and mental health can all be improved by a strong connection to nature."
Following the disruption and isolation suffered by many young people as a result of the pandemic, the Our Bright Future programme believes outdoor learning can play a vital role in improving the mental wellbeing of young people, as well as improving their academic outcomes. A study commissioned by The Wildlife Trusts found that children's wellbeing increased after spending time in nature.
Roberta Antonaci, policy and advocacy manager at Our Bright Future, says:
"Young people taking part in our projects have told me how the outdoors calms them down and reduces their stress. They say that being outside enables them to truly be themselves and learn more, whereas in the classroom everyone is always talking and they don't always get a chance to listen."
Support for more outdoor education coincides with the Government's draft 'Sustainability & Climate Change' strategy for the education and children's services systems. The paper acknowledges that it is critical to provide young people with the skills they need to lead the way in the 'Green Industrial Revolution', as well as promising to increase opportunities for all children and young people to spend time learning in nature.
Simrat Mavi, deputy headteacher at St Giles CE Primary School, Walsall, commented on the positive influence of outdoor learning on pupils:
"The impact has included gains for the most vulnerable pupils. For example – an increase in self-esteem, confidence and engagement with their peers and learning."
The 'Sustainability & Climate Change' strategy examines how the education sector can play its role in addressing the climate and nature crises, as well as promising to increase opportunities for all children and young people to spend time in nature.
The Wildlife Trusts are asking people to support more outdoor learning here.