The UK is a nation of both dog lovers and nature lovers, but are those two passions compatible? We spoke to some Wildlife Trust staff who balance both.
Dogs are more popular than ever, with an estimated 34% of UK households giving 'man's best friend' a home in 2022. All these dogs need fresh air and exercise, which can bring them into conflict with wildlife. Even the friendliest, most gentle dog still looks like a predator – and that's exactly how wildlife sees it. An encounter with a dog can be hugely stressful for birds, mammals, reptiles, and other animals. Sometimes it can even be fatal.
Our dogs can also have less direct impacts on the natural world around them. It might seem harmless to leave dog poo in the undergrowth, but the extra nutrients this adds to the soil can disrupt nature's balance, leading to the loss of wildflowers. Cleaning up after your dog and keeping them on a short lead on nature reserves and in other vital wildlife habitats can go a long way towards keeping wildlife safe. You can find out more in our recent press release here.
We spoke to some dog-lovers from around the Wildlife Trusts to find out how they balance their love for nature with the needs of their four-legged friends. Here's what they had to say…
From our very own Olivia, Jasper and Peach
I'm Olivia and I'm the Wilder East Cleveland Officer at the Tees Valley Wildlife Trust, I own two very different dogs. Jasper the 2-year-old Jack Russel who is a bundle of friendly out going energy and rarely stops and Peach the 14-year-old chihuahua rescue who loves nothing more than relaxing on the back of the couch. Both dogs love visiting nature reserves and beaches across our area despite their difference in activity levels. Being a responsible dog owner is something I feel strongly about, especially keeping dogs on a lead around nature. Both of my dogs have taken the ambassadog pledge to stay away from wading birds allowing them to rest and feed on our walks. chasing waders may look like fun for your fury friend but having to use energy to escape a potential predator can harm, the chance of survival when making long journeys for migration. Keeping my dogs on a lead or having great recall is not just great for wildlife but it's also vital in keeping them from danger. Not all dogs are friendly when they are off lead and that's something jasper has unfortunately learnt the hard way!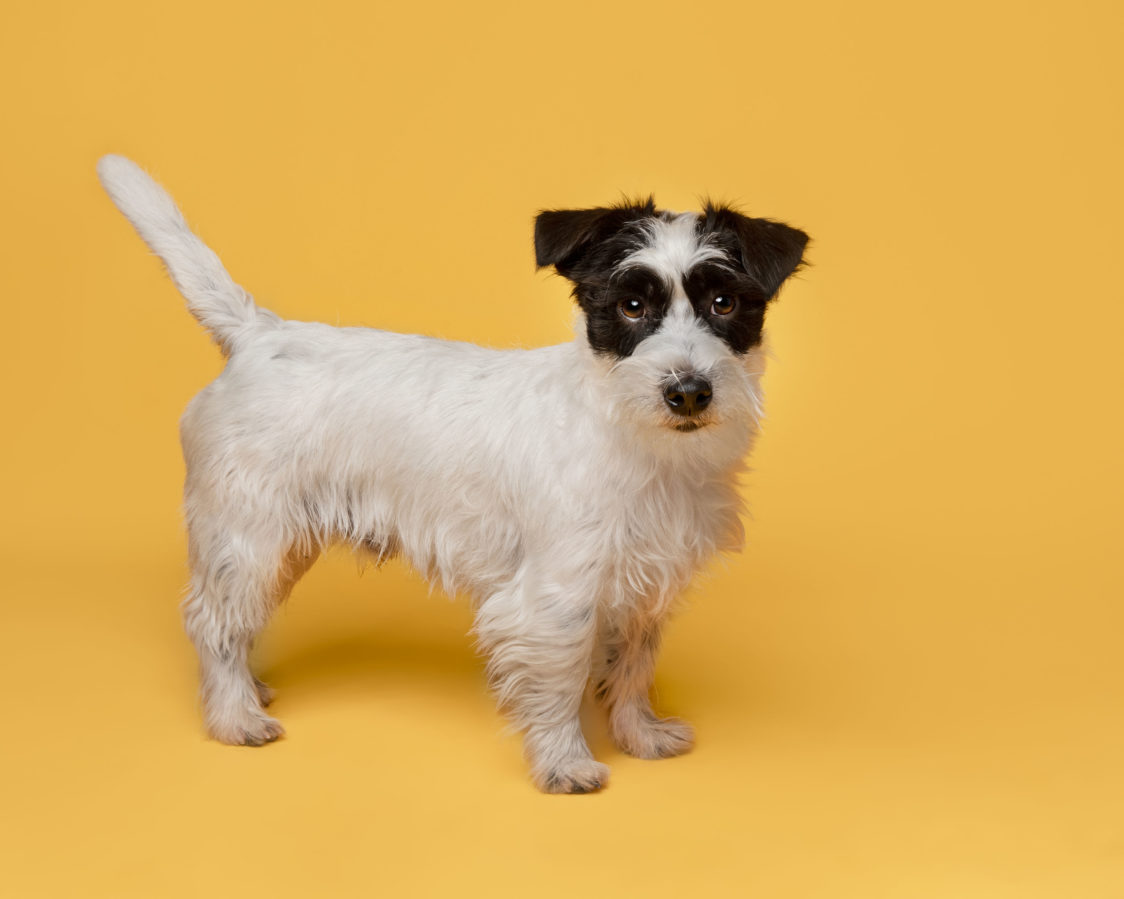 It's also important to take a moment and think about what you use as a dog owner, we try to use dog food and treats made here in the UK with sustainable packaging!
Miriam and Laurel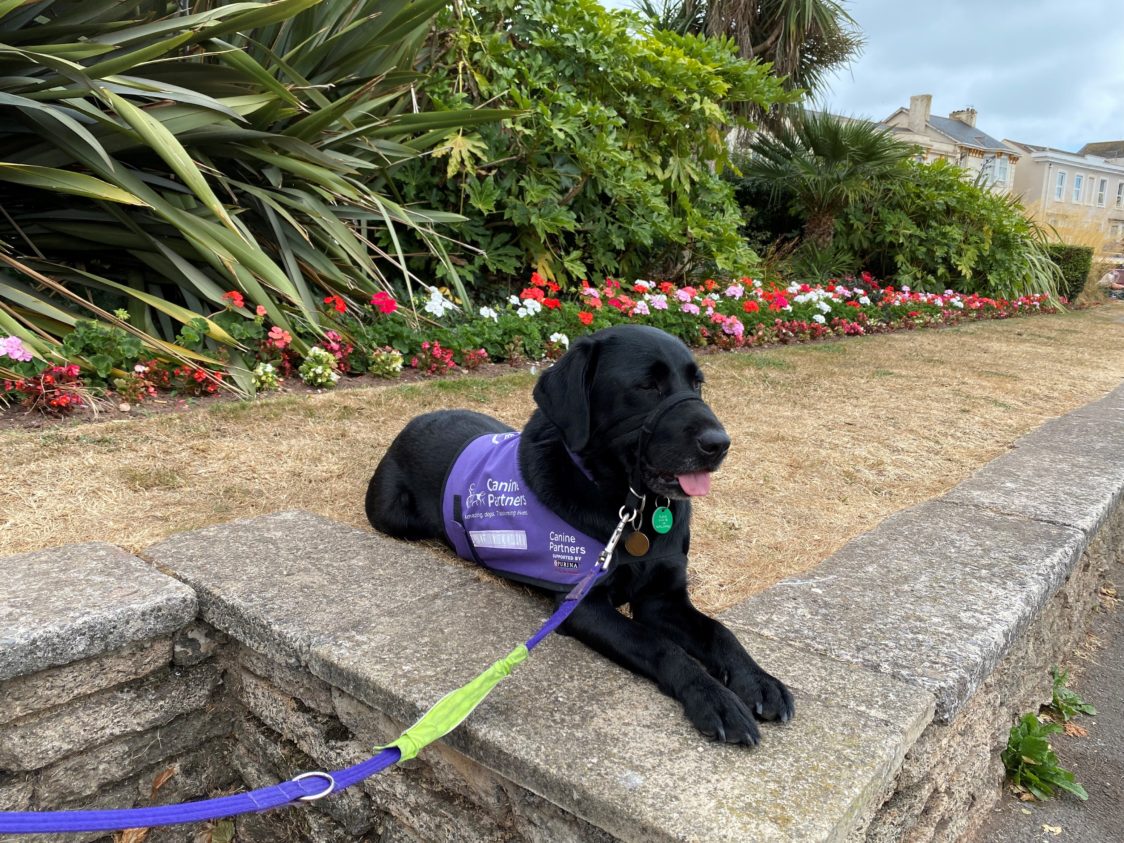 I'm Miriam, the strategic lead for equality, diversity and inclusion at The Wildlife Trusts and I have a registered assistance dog (Canine Partner) called Laurel. As you can imagine, Laurel goes everywhere with me, including out on nature reserves when I visit them in a work capacity and recreationally. It is exceptionally important for me to make sure she doesn't have any negative impact on these sites. Laurel is always kept on her lead in reserves, whether we are working and she is 'on duty', or whether she is having some 'dog time' between meetings. She is also very privileged to be allowed on sites that don't allow dogs. As with all nature reserves she is kept on a lead at all times and we keep to main pathways to try not to disturb any wildlife.
The vetting process for having a Canine Partner (as with most assistance dogs) is strict and one of the musts is being able to clean up after your dog. There are various aids and adaptions that can allow disabled people to be able to poo pick, so there really is no excuse not to clean up after your dog. The dogs must also have excellent recall and are trained to return on the whistle.
There is a balance to be found between engaging with nature and being a dog owner. Dogs off lead can cause issues not only for wildlife and the environment but also for those who aren't confident around dogs, and those with assistance dogs. There is nothing more worrying than an off-lead dog bounding up to your on-lead assistance dog and getting aggressive. If Laurel gets hurt by another dog, I lose my assistance and independence until she is recovered.
Katy and Vinnie
I'm Katy, senior conservation officer for Ulster Wildlife. I manage species projects across Northern Ireland, including barn owls, red squirrels, and hedgehogs. I have a handsome rescue collie called Vinnie (or Vincent when he's in trouble) and we love exploring nature together.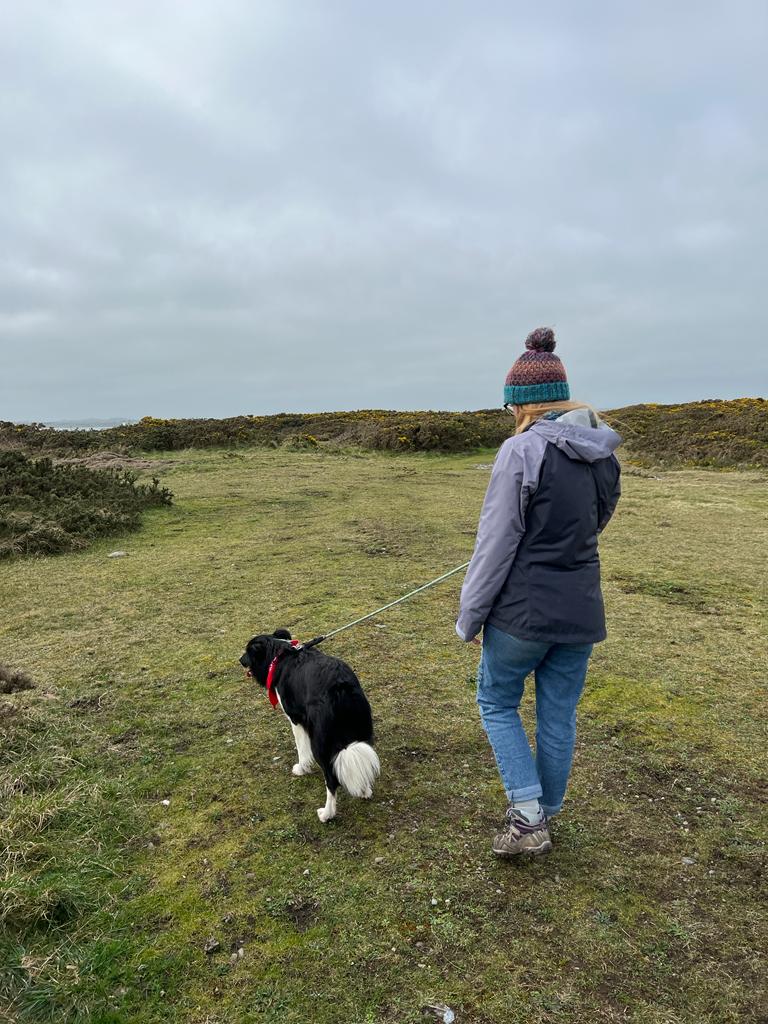 I feel very strongly about responsible dog ownership and feel we all have a part to play in minimising wildlife disturbance. I am lucky enough to live on the coast and often see owners allowing their dogs to chase waders and seabirds on the beach. Chasing birds may not seem like a big deal but if this is happening to those birds 50 times a day it becomes a real problem as it stops them from resting and feeding, both vital for their survival. Your dog may never actually catch anything but imagine being a tiny seabird and having to escape for your life every time a dog comes charging along. They see that dog as a predator and respond appropriately. That is why Vinnie is always on a lead when wildlife is around!
Another thing that Vinnie and I always take notice of are 'keep your dog on a lead' signs. These are not there to ruin your dog's fun and always have a reason behind them. I often work on a site where there are red squirrels and recently a dog caught and killed one. This is devastating when we are working so hard to save this species. So, if you see these signs, please know they are there for a reason – it might be a rare species is present, such as a plant that needs protection from trampling or a ground-nesting bird is breeding.
Next time you are out and about with your companion, think about what impact you might be having on the landscape around you and how you can both enjoy nature responsibly. We are a nation of both dog lovers and nature lovers after all.
Elizabeth, Kevin and Belle, Betty and Glen:
Hello, we are Kevin and Elizabeth Wass. We live in Redcar with our three dogs Belle, Betty and Glen; two Labrador retrievers and a Border Terrier. We are both nature lovers and try our best to help wildlife and prevent our dogs from causing any harm, whilst still enjoying their freedom. Belle is an Ambassadog for the Tees Valley Wildlife Trust. She is an exceptionally gentle dog and has no interest whatsoever in chasing or harassing wildlife, or indeed any other animal. The other two dogs, Betty and Glen are different and true to their breeding and instincts will chase some wildlife given the opportunity. It's our responsibility to reduce the opportunities that they have to do this. Fortunately they do not have any interest in chasing resting sea birds. I think they learned as pups that birds don't play fair and fly away (thankfully!) so don't bother with them. In fact the crows on the beach tend to chase and swoop to peck the dogs' tails more than the other way round!
One of our main areas of concern is for ground nesting birds in the spring, which are so vulnerable. We walk at the South Gare quite often, and keep well away from any areas that are highlighted as nesting areas, and if we're not sure then keep the dogs on a short leash. We also often visit Coatham Marsh Nature reserve. We are particularly careful there in the spring when the birds are nesting and have young chicks. Our dogs are quite obedient and won't go into the water, but if we're in any doubt then we pop the dogs leads on. We've encountered seals on the beach several times. If we know that they are there (we're often alerted on local dog owners Facebook groups) then we avoid the beach completely. On one occasion we did unexpectedly come across a seal pup resting in the dunes in a very popular dog walking route in Marske. I was alerted by the dogs barking that they had found something interesting, and when I saw it was seal I felt terrible! I put my dogs leads on and moved them away, and alerted the British Divers Marine Life Rescue. I also shared the seals location on Facebook so that other dog walkers would be aware and avoid the area.
We do our best to protect the wildlife that we love and at the same time give our beloved dogs freedom and enjoyment on their walks. There is always a tension in this, and we think as dog owners we should be observant and attentive to what our dogs are doing at all times. As we're out walking our dogs on the beach a lot we also spend time litter picking and usually leave the beach with a bag of plastic, fishing line and other rubbish which could otherwise end up in the sea and become a hazard to marine life, so we like to think that we're doing our bit for wildlife in that way too.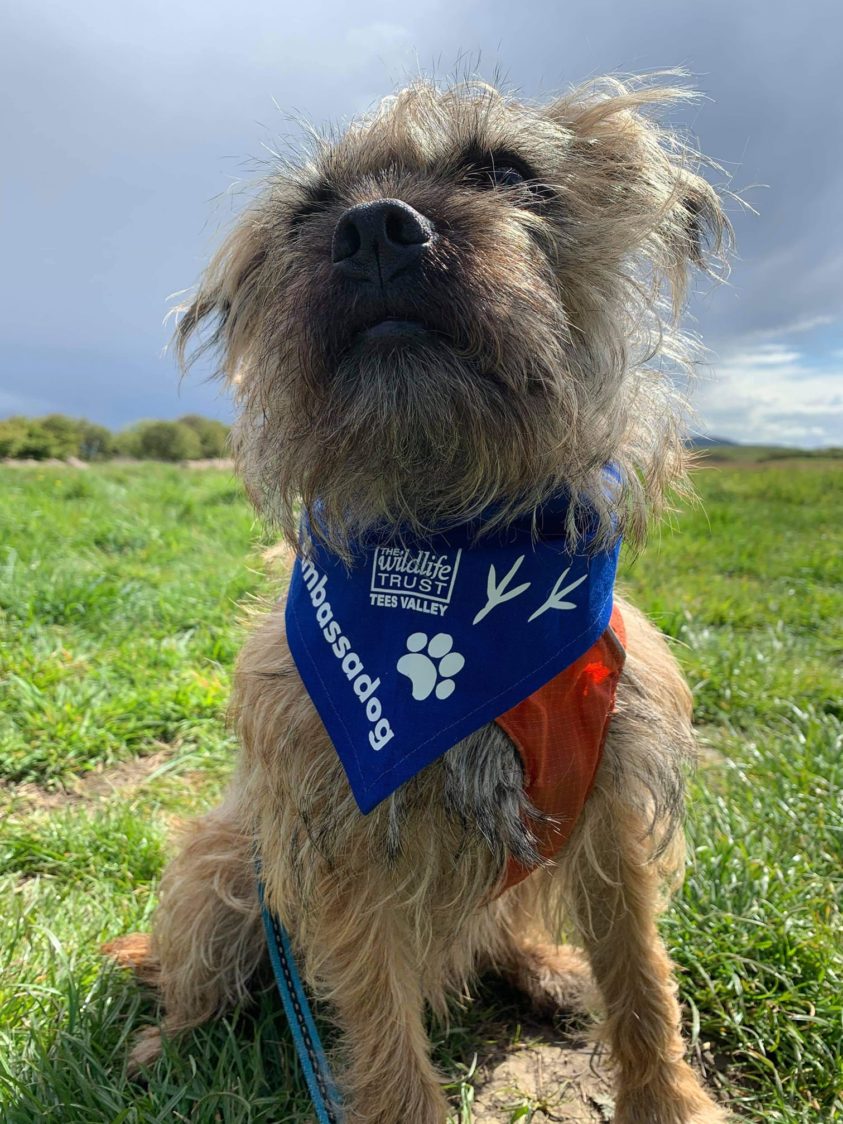 Jacqui, Tony and Spike:
We recently moved to the coast and never imagined seeing a seal on the beach but it's exactly what happens as the seals come onto the beach to rest .
If you see a seal or are advised by someone there's a seal on the beach the first thing to do is put the dog on a lead .
I think people going to the beach for a day trip might not know what to do in this situation and it's important as dogs stress and can injure the seals and seals can injure a dog .