Life Skills – Your Way to Wellbeing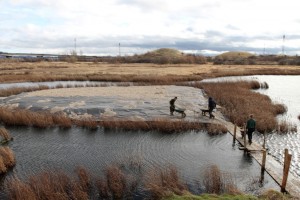 Wildlife Workshops and Volunteering for Health and Wellbeing 
Life Skills is a three-year project funded by the Big Lottery's Reaching Communities Fund. The project will deliver 11 programmes of nature-based activities, conservation volunteering, crafts and skills workshops between 2015 and 2018 for 130 people in Middlesbrough, Redcar and Stockton-on-Tees. The programmes are flexible; each one consisting of 22 sessions (usually twice weekly over 12 weeks) delivered for up to 12 people who face barriers in their everyday lives due to their health and/or wellbeing. The programme is based around diversity – we aim to benefit as many different people with different needs as possible, offering a variety of different experiences and skills across 15 nature reserves.
Life Skills participants will:
 – Become more engaged in their communities, less isolated, make new friends and work as part of a team
 – Have lower stress and anxiety levels, better moods and get fitter – all natural benefits of being outdoors in green spaces
 – Gain confidence, independence and increase self-esteem from their achievements and our supportive environment
-  Gain new and transferable skills and knowledge, achieving awards and practical work experience
Workshops include:
So far we have worked with the following organisations in developing and delivering this project:
Steps – Stockton Borough Council              Triage Central – Middlesbrough    
Beverley School for Autism           Positive Support in Tees
Tees, Esk and Wear Valleys NHS Foundation Trust            Hope North East
Durham Tees Valley Probation Service      Jobcentre Plus                   
 Richmond Fellowship                  Community Mental Health Teams        
After 4 years of research (please have a look at our 2012 report) Tees Valley Wildlife Trust have tried and tested different workshops and activities that involve and engage people in their local natural environments and green spaces in particular, based around achieving the five ways to wellbeing:
 Connect – Working in groups as a team, connecting with your local environment through hands-on activities
Be Active – Walks and conservation involve mild-moderate aerobic activities which build strength and stamina
Take Notice – Surveys of butterflies and birds, tree identification, photography, drawing objects and scenery
Keep Learning – Introductory workshops to specialist, technical skills and transferable skills like communication
Give – Make green spaces more enjoyable and accessible, and give wildlife homes through volunteering
All participants will also have the opportunity to achieve volunteering awards and John Muir conservation awards which are very accessible, nationally recognised and will be based upon their own site projects that all the wildlife and people of Teesside will be able to enjoy.
Practicalities…
Transport – We can provide a minibus, organise pickups and drop offs usually within walking distance of your home.
Staffing and Supervision – One/two staff members for 12 people on volunteering days, two staff for workshops. Carers/support workers are welcome as long as they join in!
Health and Safety – We take responsibility for the health and safety of participants on site but we also ask that individuals take responsibility for being aware of others, their surroundings and not engaging in any activity which may risk anyone's safety.
Clothing/Safety Wear/Equipment – Participants need to dress appropriately for the weather and the task – sensible footwear in particular. We provide all personal protective equipment and any safety wear necessary for work e.g. high visibility clothing, but our waterproofs and safety shoes are worn by many volunteers so people may prefer to bring their own.
Lunches and Breaks – Participants need to bring a packed lunch and a drink unless otherwise agreed. Volunteering and workshop sites are not always near shops (this also means there may not be toilets available!). Workshops are held at Margrove Centre where we have a kettle, microwave, toilets etc.
Conduct – All participants need to represent the Wildlife Trust in a professional manner at all times during sessions, being mindful and respectful of others' wishes and needs.
If you work with a group or an individual you think could benefit from this programme or for more details please contact 
Jenny Hagan (Development Manager): jhagan@teeswildlife.org / 01287 636 382